Great Organic Baby Clothes for a Greener Start in Life
Organic baby clothes are now a must for most eco-conscious mums and dads when they come to kitting out their new arrival. Fortunately, you don't have to be drab to be green!
Baby clothes are now available in many eco-friendly and quite funky designs and colours. Fair trade baby clothes are becoming more common and more adventurous in designs and colours, too.
To help you through the maze of possibilities, here are some of the cutest and greenest options for organic baby clothes and fair trade baby clothes on the market today.
Ethical issues are also a factor here; buy with confidence that the companies featured are striving to be as green and ethical as they can be!

Sponsored links
Organic and fair trade kit
Sckoon
First, here's a look at some really cute designs for organic cotton baby wear from Sckoon.
Organic cotton is the material of choice for many parents seeking out eco-friendly clothing for small babies. It is cool and comfortable and hard wearing and very easy to wash.
Sckoon specialises in organic cotton designs produced in New York and is a highly eco-conscious company. They subscribe to fair trade practices and all their clothes are fully organic.
This is a company which is really ticking all the boxes! Sckoon clothing is certified by Demeter (the International Biodynamic Certification Board) and AGRECO (USDA Accredited Certifying Agent). Sckoon clothing is now available in 16 countires worldwide.
Easy fastenings and hip looks
The fastenings and stitching on Sckoon baby clothes are made to be really easy on baby skin. Stitching is done so that the stitching is not next to your baby's skin. The Sckoon collection includes comfortable underwear
and "Monkey Pants"
which are great for running about in.
One of the great things about Sckoon baby wear is that it is also quite attractive and hip-looking.
Just because you want to be green does not mean to have to sacrifice your fashion sense. Many of the Sckoon designs have Japanese influences - in fact there's a whole collection called the Zen Collection which features Japanese prints and motifs. Even some of the bootees
have a Zen influence!
I cannot claim any first-hand knowledge of these products, as my children are well past the baby-gro phase! However, these organic baby clothes from Sckoon (not to be confused with Schoon the economist or Schoon the artist!) certainly score well on both fair trade and ethical criteria.
Schoon have over a hundred different organic designs and outfits to select from on Amazon. They also have some immensely cool-looking baby toys available - made from fully organic materials such as this Sckoon Organic Cotton Skinny Rabbit Doll (stuffing is organic, too!)
or this Sckoon Organic Cotton Sleepy Sheep Doll
. (Roll your mouse over the titles to get a preview of these cute toys.)
Our Green House
Our Green House has some very practical "footie" striped baby wear in his n' hers blue and pink. The snap fittings make dressing simple and quick and they are made from fully organic cotton. Sizes upto 6 months old are available.
You can see more of their designs here.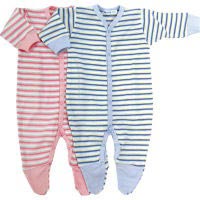 Some UK options for organic baby clothes
Gossypium
Gossypium - Ethical Clothing is a great stop for fashionable and cute baby items. The company has come a long way since their first stall on Brighton beach!
They have some really cool animal designs on their baby vests and cot blankets.
Their environmental and ethical policies might take you half a day to even read. They take lots of care regarding the sourcing and transporting of their materials and their care for workers' rights is exemplary. All their products are organic and ethical and as environmentally sustainable as can be.
Lazy baby
Lazy Baby is part of the Plain Lazy fashion label. They specialise in cool urban wear but they are also self-confessed tree-huggers. Go to their Ethics page and it's clear they are trying to square the circle of street-cred and ethical practices. They are now able to add the Fairtrade label to their baby range.
All their baby hoodies and T-shirts are made from pure organic cotton and their warehouses and offices are run on renewable energy, too. Pretty cool!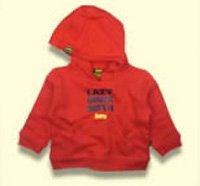 The range includes hoodies, long-sleeved tops and T-shirts all with a selection of prints. Sizes range from 6 months to 24 months. The T shirts and tops have envelope necks to make them easy for frazzled parents and they are made from soft brushed cotton for the comfort of their wearers.
The logos are quite funny - especially the "can't...(yet)" range.
You can see the "can't skate (yet)" T shirt here at Plain Lazy
There are nine "can't ...(yet)" designs to choose from including surf, ski and snowboard. A design to please active parents, no doubt!
Plain Lazy are working hard to bring the rest of their product range up to the same high standards as Lazy Baby.
I'll add more organic baby clothes as I find them. If you have any suggestions or recommendations, please feel free to contact Greenfootsteps.com using the contact form.
Custom Search
Return from Organic Baby Clothes back to Natural Parenting
Greenfootsteps Home - for more easy green living ideas