Natural Body Care - the Green Way
Natural body care is quite fashionable!
There are lots of products claiming to be "natural" but are they green?
And how natural are they really?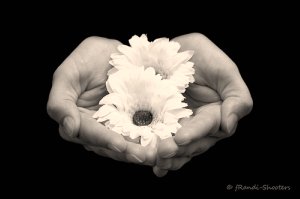 Many plants have beneficial effects upon the skin.
Picture thanks to fRandy-Shooters.
What's here?
In this section of Greenfootsteps we take a look at the hype and the reality and try to separate the two!
There are billions of dollars being poured into natural body care. As consumers, we care deeply and want quality products which do not endanger our health - or the health of our planet.
How can we be certain that the products we buy are not only natural but also safe and eco-friendly?
Here we try to find out!
Click here to go straight to the articles.
Natural? How natural?
If you care about the environment and green living it will be second nature to use natural beauty products as part of your beauty routine.
But all may not be quite as it seems!
Many, many companies slap the word 'natural' on their products, hoping to persuade us to buy. In many cases, it's just that, a word. It has no real force in law as it is such a common, general word.
If you want to use body care products which really are natural and which are safe for the environment and safe for you - well you have to dig a little deeper.
Fortunately, there are many reputable companies which sell excellent products, some with wholly organic and natural ingredients. There are now even some companies which specialise in 100% organic food-grade ingredients. That is a pretty high standard. If something is good enough to eat, then it is certainly safe to put on your skin.
However, even so-called "natural" products from health shops and companies may not always be quite what they seem.
So, it's a good idea to get a little savvy about what to look for in a product and learn how to read the labels.
Mainstream products




- and really natural products
In this part of Greenfootsteps you will find details of mainstream body care products and the natural body care products which can be used as alternatives.
You won't find every product here, of course, but you will find many of the most common ingredients and details of how they affect you and the environment.
The pages are organised in broad product categories. For example, there are pages on sunscreens and on hair conditioner.
Each page has details of some of the origins and ingredients for each product and there are a few suggestions for homemade recipes, too.
Each page also gives some recommendations for greener and healthier ways to source the products - so you should be able to make a more informed choice when you see the next must-have natural body care product!
You can even learn how to use food items from your organic kitchen in your natural care routine.
Sponsored links
Here are the articles.
Skin care
Natural Organic Skin Care Product Reviews A page of skin care reviews of the very best organic products.
The Best Sunscreens are Broad-Brimmed Hats! Some details of what's in your suntan oil or spray and some thoughts on the best ways of staying safe in the sun.
Pure and Natural Soap A bit about the history and origins of soap, modern ingredients, and a look at craft and natural soap alternatives.
Organic Body Care offers a very natural approach, just using all-organic ingredients from your kitchen.
Organic Skin Care Reviews - Add Your Own!
Hair and nails care
Healthy Hair Shampoo Can be Found There's a fair amount of hype and paranoia around hair shampoo. Here are some of the key facts about commercial shampoos and some suggestions for best practice if you want your hair to be clean and green.
An Olive Oil Hair Treatment for Softer Hair This is an easy way to make your hair soft and silky and well-nourished. This method also includes half an hour of well-deserved relaxation!
Best Hair Conditioner is a Natural Hair Conditioner There are quite a few good alternatives to commercial conditioners. Here are a few plus some details about ingredients in most shop-bought types.
Safer Nail Polish Ingredients - Do They Exist? This page explores some of the ingredients in modern nail polishes and their hazards. It gives some alternatives, too.
Dental care
How to Make Toothpaste and Other Toothpaste Facts Here's a simple, effective toothpaste recipe and a look at the very best toothpastes available on the market today - all natural and organic ingredients and no nasties!
Toothpaste Ingredients - What's in that Drug Store Brand? A look at some of the many ingredients which companies use in toothpastes - not all of them harmless.
The Best Whitening Toothpastes for Health and for the Environment What is the deal with whiteners? Are they safe? What do they do and what's in them? Here's what you need to know.
*****
Natural Body Care - top of page
Greenfootsteps Home - for more easy green living!