Transport and Fuel Options for a Better Future



Here we are, well into the 21st century...
For most of us transport and fuel choices are huge issues, especially our own personal transport options.
In this section of the Greenfootsteps site we explore some of the best options for personal and family transport and look at practical ways of cutting down car use.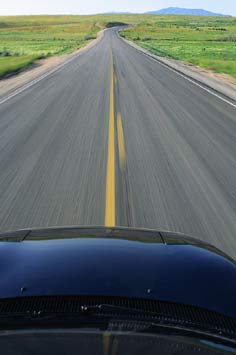 We all know the main transport options - bikes, cars, buses, trains, flying, etc. The point here is to explore some of the better options for realistic and cost-effective greener living.
The inevitable truth is that we (nearly) all want our own personal transport, sitting right outside our homes, in the drive or the street!
It looks like the family car is here to stay for a long while yet, even given that fuel prices are likely to rise in the not-too-distant future. The trend is upwards, even though the recent economic woes have given us a pause, caused by a slump in demand. Oil prices are under constant pressure from the declining number of new accessible oil discoveries.

This section looks mainly at car options with some pages on fuels.
Congestion and traffic jams are a daily reality, it seems, despite the possibilities provided by new transport and fuel options, such as hydrogen fuel cells and electric cars.
Picture above: A vision of motoring from the past for most of us - the open road
The articl

es - t
ransport and fuel options for now and the future
Different types of car transport
Hybrid Car Advantages - for a 21st Century Ride
Do Hybrid Car SUVs Offer a Greener Big Car Experience?
EV cars Offer Cleaner and Greener Local Driving
Electric Cars 2009 - What is Out There?
Fuel and efficiency
Green Car Insurance and Car Insurance Advice
Increasing Fuel Efficiency for Your Family Car
Auto Fuel Economy - Reduce Your Car Use
Cash for Clunkers and Scrappage Schemes
Other types of transport
Green Truck Options - How to Make your Truck Greener
Other transport issues
Asbestos and Mesothelioma: More Reasons to Use Alternative Fuels
Naked Streets: Is Shared Space a More Human Approach to Traffic?
Top of Page - Transport and Fuel
Greenfootsteps Home - easy green living