Growing Fruit Trees and Soft Fruits for Bumper Home Harvests
Growing fruit trees and soft fruits at home is quite do-able!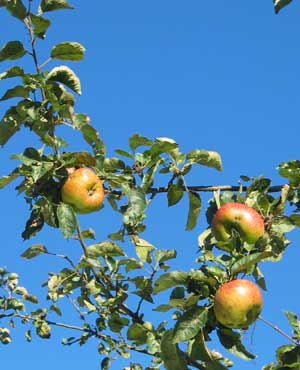 There's really nothing quite like growing your own fruit trees and fruit bushes. Even if you have only a small patio or yard it is still possible to grow fruit, as it is now possible to buy trees which are well adapted to life in a pot.
Here is a collection of articles on how to grow your own fruit - simply, cheaply and using organic methods. There are also articles on using fruits.
Read on for more on the beauties and pleasures of growing your own fruit.
Click here to go straight to the articles.
Orchard charms
An orchard is one of the finest places to pass time. Whether you are working on your trees or soaking up the sun in an orchard glade, there is a quiet satisfaction to be enjoyed. Growing fruit trees can be a seriously good excuse for some pleasant hours in a wonderful environment!
An orchard is also one of the pleasantest places to be when the temperature soars. There is nearly always some shade and a whisper of a breeze to be enjoyed on even the hottest summer days.
There can also be shelter and enjoyment of the elements at colder, rougher and damper times of the year in a well planned fruit orchard.
An orchard makes a wonderful playground for young kids.
One of my favourite childhood memories is of the tree-climbing and swings that our orchard provided. Being chased by wasps at outdoor picnics is a less agreeable one!
Pictures: Apple blossom in a spring orchard and (right) a mature orchard at Levens Hall, Cumbria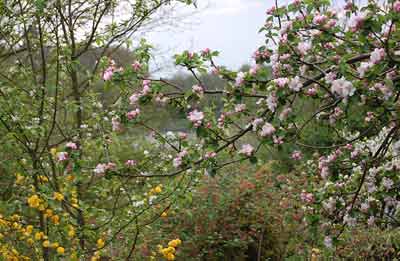 The other benefit: the fruit
Of course, the fruit itself is the natural bonus of growing fruit trees in your own back yard. Orchard fruits are often very easy to grow and any super-abundance is easily disposed of to friends and extended family members. Fruit tree growing is an enjoyable hobby, which people of all ages can engage in.
Soft fruits, too have their charms. Everyone should experience the thrill of harvesting their first strawberry of the season. Succulent raspberries are a wonderful addition to the garden, if you have enough room. Soft fruits are always in demand for puddings, cold desserts and pies and there is nothing nicer to take for friends when visiting than fresh ripe fruit from your own garden or backyard.
Supermarket jams and bottled fruits cannot generally compare with home produced preserves. You can, with a little practice, make home-made chutneys, jams and conserves which are at the gourmet end of eating. Any excess is usually easy to freeze or give away.
Growing soft fruits is not difficult. Even if you only have a little space, it is worth doing. There's a lot of satisfaction in seeing your nursling plants develop into strong mature ones laden with delicious fruits.
This section of Greenfootsteps is devoted to the pleasures and skills of fruit culture, starting with growing fruit trees and some nut trees, through to pages on growing soft fruits.
Here are the articles.
Growing Fruit Trees and Soft Fruits - Articles
Please use the links below to explore aspects of this fascinating hobby. First, the tree fruits.
Fruit Tree Orchards for the Community - a look at the growing community orchard movement in the UK and Community Supported Agriculture in the USA.
Some Successful Community Orchards - some examples of community orchards currently in the UK.
Growing Apples for a Bountiful Home Harvest - an introduction to growing apples and selecting the right trees for your garden.
Growing Apple Trees for a Great Home Harvest Read all about pollination and what tree age to go for when buying.
Pruning Apple Trees for Health and a Bumper Crops Here's an introduction to pruning apple trees - simple directions for getting the best from your fruit trees.
Soft fruits
Growing Red Currants for a Luscious and Easy Home Crop Here are some cultivation notes for growing red currants - all you need to get started.
How to Grow Raspberries at Home Here's a look at growing raspberries by organic methods for a delicious crop of healthy, fantastic fruit.
Blackcurrant Plants for Your Garden
Blackcurrants are quite easy to grow and they are a fantastic fruit for your health.
How to Grow Blackberries - and Why Blackberries can be highly invasive - but they still may be worth cultivating.
How to Grow Grapes at Home Grapes can be surprisingly easy to grow - and the birds benefit too!
Using your crops
Here are are a few pages which may help you to get the best from your fruit crops.
Drying Apples at Home for Winter Sweetness Learn how to dry apples in your oven or on your stove. A great way to use up cookers - which become sweet enough to eat as they caramelise.
How to Make Apple Juice at Home Making apple juice is really easy and it's a great addition to a healthy diet.
An Easy Fruit Leather Recipe Fruit leathers are an old-fashioned way of preserving fruit successfully.
Please also see the recipe pages for more ideas for using fruit.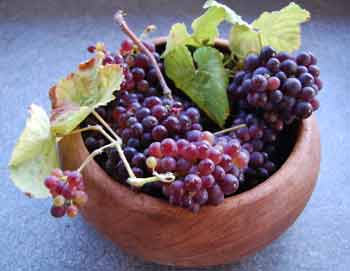 Picture above: Growing fruit trees and vines in your garden can produce delicious crops such as these.
*****
Growing Fruit Trees - top of page
Greenfootstep Home - for more easy green living ideas