Eat Well for Less with These Organic Healthy Recipes
Organic healthy recipes for vegetable and fruit dishes, grains and meat recipes and even some for wild foods!
Organic healthy recipes? What are they?
I suppose that, in truth, there ain't no such thing as an 'organic recipe' - or, at least, any recipe can be organic. Yet there are recipes which are particularly well adapted to organic foods.
Click here to go straight to the articles.
Flavour!
Organic foods are often more flavoursome and subtle than the chemically-produced counterparts, so you can use simpler ingredients and methods.
Here are some recipes which I have found useful while running an organic garden and catering for family and friends.
There are detailed recipes for healthy organic dishes with some notes on nutrition. There are four main categories
First are vegetable dishes and other savoury recipes. Then there's organic staple foods from your organic kitchen - grains, pulses, and rice. Then there's a section on dessert dishes and lastly a section devoted to wild foods such as elderberries and blackberries.
Organic healthy recipes:


Wild foods, windfalls and glorious gluts
When you grow your own vegetables organically you often have sudden gluts of particular things and you need a way of cooking and preserving them.
There are also recipes for various common fruits, because again it's very easy to find yourself with a sudden oversupply of a particular fruit, if you are growing stuff yourself. We get so many apples it's hard to get around to picking them, so they are nearly all windfalls. Shame they're all cookers!
Even if you are buying your organic fruit and vegetables, there are times when the supply is plentiful and cheap, so it's nice to be able to prepare some dishes for the freezer, or make some preserves for the store-cupboard, or to give as presents.
There are also some recipes which have proved popular at home and which can be part of a healthy balanced lifestyle. The focus is on easy cookery using organic staple foods which you will normally find in your local health food shop or store or perhaps through your friendly neighbourhood food co-op!
Most of the ingredients used are pretty straightforward. When there is something a bit more exotic (i.e. exotic for England!) included I will usually explain its use and origins.
Plain cookery!
The cookery here is suitable for ordinary family life rather than special occasions and dinner parties, so forgive me if some of it seems a bit plain! Most of the ingredients are not really expensive.
I've also included a few recipes for wild foods such as blackberries and chestnuts. They can make a useful contribution to a green lifestyle. If you can find wild food on your doorstep it's another way to keep the food miles down. But if you do have to trek out to the countryside to collect them, then hopefully you will enjoy some stress-free time out from the city rush and pollution!
The best blackberries in London are to be found in some of the overgrown cemeteries. Certainly organic! Hmmm...
Picture below: - wild sweet chestnuts
Here are the articles.
Organic healthy recipes:


Organic healthy recipes for vegetables and savoury dishes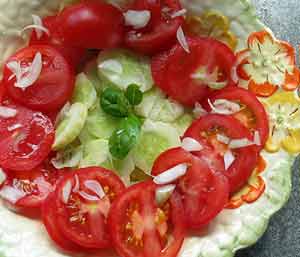 Fresh tomato recipes for that glut
An easy fresh tomato salsa recipe for a zingy side dish
An oven-baked whole chicken recipe - easy and wholesome
A really easy and nutritious home-made chicken soup recipe
A cheesy potatoes recipe page - simple, delicious organic fare
Easy new potato recipes for glorious summer eating!
Easy fava bean recipes (or broad bean recipes, if you will!)
A fresh green bean recipe page - for pole beans and runner beans
Easy vegetable soup recipe page
An easy nut roast recipe for Christmas or anytime
See here for cheap healthy recipe ideas
Organic healthy recipes for kitchen staples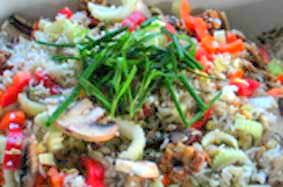 Easy chickpea recipes for vegetarians vegans and meat eaters!
A homemade muesli recipe for simple, healthy breakfasts
Porridge and other oat recipes
An everyday whole grain bread recipe
How to make bread for taste and health
Making rye bread - some easy recipes
A healthy low fat granola recipe
How to make yogurt at home in a flask
Preserves and condiments
How to make mayonnaise at home
Dessert recipes for your organic fruit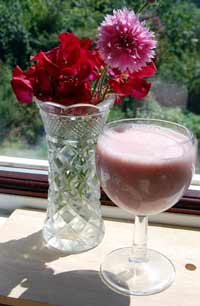 Here are dessert recipes, mainly for fruit - the occasional savoury fruit dish too.
Easy apple recipes for savoury dishes and desserts
Fresh plum recipes for your extra fruit
A rumtopf recipe for summer and autumn fruit
Yogurt drinks and smoothies for a cool summer
Blackberry pie recipes for an autumn feast
Fabulous fresh fruit salad recipes - for any time of the year!
Carol's easy carrot cake recipe
Organic recipes for a winter feast - Christmas cake and mincemeat
An easy nut roast recipe for Christmas or anytime
Recipes for wild foods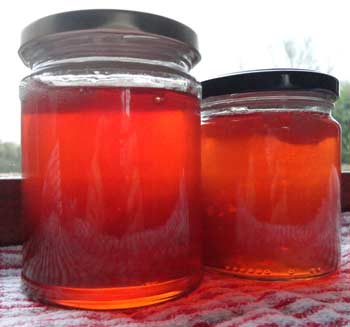 Elderberry recipes for a healthy winter
Blackberry recipes - jam and other ideas

Roasting chestnuts and chestnut recipe ideas
How to make sloe gin for winter cheer!
An easy crabapple jelly recipe
Sponsored links
Organic Healthy Recipes - Green Recipe Book - top of page
Greenfootsteps Home - for more easy green living ideas