Natural Parenting for Greener Living
Natural parenting can deliver a good many benefits for both you and your child. Good health and less strain on finances - both can be achieved by adopting natural parenting methods.
This section of Greenfootsteps looks at some natural approaches to parenting and explores some of the ways we can be greener in the purchases we make for our children.
See the bottom of the page for a complete list of natural and eco-friendly parenting articles.
Eco-friendly nappies
For parents of very young children and babies the issue of which nappies to use is an important one. As a green parent, do you go with the apparent convenience and speed of eco-friendly disposables?
Or is it worth putting up the investment to buy cloth nappies? Does your choice really make a difference to the environment?
What types of cloth nappies or diapers are available? Which materials are best for your baby? What are the environmental costs of each approach?
In my view, cloth nappies are both better for the environment and better for babies. But if you like or need extra convenience at times (such as for holidays and days out), then the choice of eco-friendlier disposables is improving.
For British readers I've also written a page on cloth nappies available in the UK to help you decide on the most eco-friendly option for your baby. (Helping you to keep down the nappy miles!)
Natural bedding and clothing
There is now a burgeoning market in natural and organic bedding and clothing for babies and young children.
Here you will find some of the best options discussed and evaluated. Here's a look at some of the best eco-friendly Baby blanket material choices to help you decide what to buy - or make. And here's a page showing organic baby clothes - some of the very best choices available today to give your baby a greener start in life.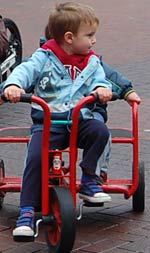 Natural parenting and being a green parent is practically the same thing - except that perhaps green parents may be a bit more hot on energy saving.
More and more, green living is a lifestyle choice which offers many benefits - including better health and often less expense. These benefits can be experienced by parents and their children, too.
However, not all green consumer products are cheaper than their standard rivals. Sometimes the benefits are felt in the long run - because energy savings are made or because many eco-friendly consumer items just last longer; you certainly can't pass on your disposable nappies to your sister! But real cloth nappies can last through several children's infancies and wooden toys, for example, can last for generations.
Natural Parenting and Economy



Keeping your growing family supplied with food, clothing, warmth and entertainment can sometimes seem like a full time job. Some eco-friendly products and services can definitely help square the circle of family finances; others, such as supermarket organic foods, can leave you feeling empty-pocketed!
You may find some helpful ideas for reducing costs in the section "Frugal Living".

Healthy baby, healthy child
What about health care? There are many ways that natural parenting approaches can deliver real benefits. Herbal and homoeopathic remedies can offer effective treatments for many of the problems of early childhood - and even reduce visits to the doctor's clinic. Many of these approaches are safe for home use, if you stick to some simple safety guidelines.
When my children were little I used homoeopathic medicines for most ailments with considerable success. We never needed antibiotics at all and they spent very little time visiting the doctor. Antibiotics can be life saving and hold a valuable place in modern medicine. But good early use of alternative medicines can often prevent health problems from becoming critical. Alternative medicines rarely have side effects and tend to fit in better with green living ideas.
Please see the Healthy living section for more on natural health alternatives.
Sponsored links
The importance of good diet
Diet and nutrition are areas of interest to new and seasoned parents alike. Many babies and young children can suffer from allergies and food intolerances which natural remedies can often help.
Simple adjustments to your baby's diet can sometimes be very rewarding, resulting in a happier and less fretful child and a more peaceful time for you.
Skin care is also an important concern for parents. There is a lot you can do to ensure a healthy and beautiful skin for your young family members by using natural products and foods.
Sleep, too, is a big topic for many new parents. Young babies need frequent attention during the night in the early weeks and this can be a considerable challenge, especially if one or both parents are working. Establishing good sleep habits is one of the foundations of a happy childhood. This section will consider ways to help your young children to natural and enduring good patterns of sleep.
Here are all the articles in the natural parenting section. These articles are designed to be of interest to any parent who values green living and sustainable lifestyles.
Babies and very young children
The best nappies for less expense - some advantages of cloth nappies
Types of diapers is about the different shapes and designs available and their merits.
Cloth nappies UK - good nappies available in the UK today
Cloth diaper fabric: Nappy materials for a happy baby is about eco-friendly choices of diaper available in the US.
Great organic baby clothes for a greener start in life
School-age children
Healthy Picnic Ideas for Springtime.
Some Healthy Recipes for Kids - Inspired by Michelle Obama
A Greener Generation? An article on green initiatives around the world that engage with children.
The Green Schools Initiatives. Here's an article on The Green Cup Challenge for schools.
Asbestos Exposure in Schools and from Toys This article explores the risk of asbestos exposure in US schools - fortunately now a decreasing danger, thanks to tighter regulation.
Pre-conception and birth control
*****
Natural Parenting - Top of Page