The Best Thermal Window Treatments for Your Home
Thermal window treatments can make a huge difference to the comfort of your home - and to the bills!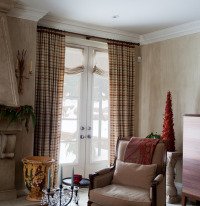 Picture right: Thermal lined drapes in use in a living room. Picture thanks to Window Treatment Pro
Freezing or boiling weather can easily catch us out. Here's a way to keep your home's atmosphere in the comfort zone!
Heat reflective curtains and blinds and other insulated window coverings can save you money on energy bills. Keeping our energy use within bounds is a good green living skill.
Most of our energy use converts to carbon emissions which cause climate change, so using thermal window treatments can be a small part of the solution - which benefits everyone.
This article is brought to you by Window Treatment Pro
Advertorial content
Please note some readers may consider this article as advertorial.
No money was paid for the article but the interests of the writer may be served by some aspects of the article, for example, by outgoing links.
Insulated window coverings
There are many "green" ways you can be energy efficient and smart about your home. One important area often forgotten is with insulated window coverings. Most of your fuel and energy costs escape right here, through the unprotected openings that we see through each and every day, yet never give a thought to except for the convenience of air, privacy, and what we can view out them.
Yet the solution is fairly easy. It is as simple as thermal window treatments for your home.
Those who live in climates with intense heat in the summer, or extreme cold in the winter, know first hand what a huge difference it makes to have garage door insulation vs non-insulated types. The same applies to the windows in our homes.
Extreme temperatures, either hot or cold, and we need to take extreme extra care to protect ourselves and our valuables. The options are endless, but we only have space to talk about a few here, but you can view other easy energy saving tips at Home energy saving tips for a cheaper, greener lifestyle.
Mirror window film and aluminum foil
Many home owners associations in the US have banned the mirror window film due to the reflective glare to their neighbors and overhead low aircraft.
Likewise, many neighborhoods that once resorted to thick newspapers wrapped in aluminum foil then taped to the windows, and old fashioned heat absorption thermal window blankets now are under strict regulations from associations to eliminate them, or at least control the exterior color. Many of these reflective insulation ideas can show white or off-white to the outside view. Most are not allowed at all. There's even privacy window film that will keep the glass from shattering if hit by a golf ball or large bird.
Solar window film will protect your furnishing and flooring. It it will also capture a long lasting sunset so that you can watch it go down without blinding you, and some types will even allow privacy within, while you can still see outside. But solar film can't take the place of good insulated curtains for cold and heat resistant capabilities.
Sponsored links
Thermally insulated drapery
While some types of solar window film can be very effective and eco-friendly, such films will never take the place of good insulated drapery with heavy bump interlining or thermally insulated roman shades like the ones shown at Window Treatment Pro . These products will keep out extreme temperatures and noise. Bump interlining is like having a wool blanket between the front facing drapery fabric and the back lining.
Thermal blinds and insulated shades
If thermal drapery is not for you, and with the new US Federal Tax Credit of $1500, there is much controversy as to whether one thermal blinds product can or cannot qualify; Hunter Douglas still stands head and shoulders above the rest in qualifying where others fail miserably.
To my knowledge, Hunter Douglas has the most energy-efficient product on the market as far as insulated window shades are concerned. Their Architella Duette Room Darkening Shade has an R factor of over 7.
R factor and the draft factor
An R factor of over 7 is really outstanding in the industry, and is better than most drapery and shutters achieve. Very contemporary looking in nature, it does little for sound-proofing and is still not better than thermal drapery - if constructed properly and the proper size for the window.
However, the first rule of order is the window itself. Is it dual pane? Is it sealed properly? Any product will be put to the test if the house insulation is not sound. Drafty windows will challenge ANY product added to them. This soon becomes a lose-lose situation when it comes to thermal window treatments.
There are many many ways you can change your surroundings and make a better place to live and play, just by choosing the right materials and applying the principles and ideas that are proven to work in making our planet a better place for us and our children and our children's children. One person - one step - you CAN make a difference today. A tiny step today is a huge leap for the future.
Aren't we worth it? 
***

This article on thermal window treatments is supplied by Window Treatment Pro. Please contact them for more information on the best thermal window treatments solutions for your home.
*****
Best Thermal Window Treatments
Home Projects- Easy Home Improvement Projects

Greenfootsteps Home - for more easy green living ideas