Easy Apple Recipes to Please All the

Family!
Here are some great easy apple recipes which will help you to use all your crop - good for bought apples, too!
We have several excellent apple trees and we are often challenged to find good ways to use them! These recipes have been gradually collected in response to that challenge.
What's here?
Here is a list of the easy apple recipes on this page.
Easy apple recipes for apple pie; raspberry and apple cake; baked apples; apple sauce; home-brew cider; ideas for savoury uses for apples and a traditional recipe for apple butter.
Easy apple recipes - about apples
Apples - a versatile ingredient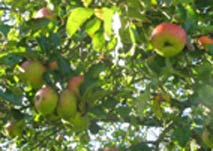 If you have apples at home you need some easy apple recipes to help you make the best of them. Apples are such a versatile ingredient, not just for puddings but for some savoury dishes too. There is a wealth of easy apple recipes which will enable you to make good use of your apples.
Apples are a great source of nutrition. They are good for fighting inflammation and providing soluble fibre and vitamin C but this is just a fraction of their powers. See my page Fruit nutrition facts for some more fascinating details of the nutritional value of apples.
Home grown apples can be so abundant that many of them just lie unpicked on the ground providing a feast for the birds. These easy apple recipes should help you cope.
Picture: easy apple recipes - the raw ingredients!
Apples are also great for giving to the neighbours and for trading with other fruit and veg growers. Apple desserts are always welcome gifts when you go visiting.
Then there's always cider making....
See the bottom of the page for a new recipe for apple butter - a great accompaniment for savoury dishes.
Apple Pie - a Good Place to Start!
Who ever needs an apple pie recipe? You can't have a page of easy apple recipes without one for apple pie! This is the way we do it.
The pastry
12 oz/ 300 gm plain flour
5 - 6 oz/ 125-150 gm margarine
1 egg (optional)
cold water to mix
Mix the flour and fat in a food processor or by hand to create "breadcrumbs" i.e. a fine crumbly texture. If you are doing this by hand just use the tips of your fingers so that the mixture does not warm up too much.
Add the egg, if desired, and mix in well.
Add the water gradually and knead lightly until a ball of dough is produced. Again, handle the mixture as little as possible so as to keep it cool.
Cover with cling film or a damp cloth (greener) and set it somewhere cool for half an hour. A fridge is ideal.
Select and wash your apples and switch on the oven.
You will need approximately these amounts, depending on the size of your pie dish:
About 1 - 2 pounds of apples/ 1/2 - 1 kilo
About 6 - 8 oz sugar/ 150 - 200 gm. You can get away with less if you do not have a sweet tooth or you are trying to cut down on sugar. You can also use honey or other alternatives to sugar. Honey is delicious in apple pie.
Divide the dough into two slightly unequal portions. Use the larger portion for the base. Roll out the pastry carefully and use it to line a greased heatproof dish. A proper pie dish is best, with a flat rim so that the pastry is supported at the edge.
When the oven is hot enough (Gas mark 5), put the pastry base into the oven for ten minutes.
Now prepare the apples:
Peel and core the apples. Bramleys or other cookers are ideal but you can also make pie with eating apples. If the skins are sound you don't have to peel them - it's all good roughage, after all.
Slice the apples and as you slice them add them to a heavy pan with a little butter. Each time you put the slices in, add a little sugar, sprinkled so as to lightly cover the slices. This helps to prevent "rusting".
Now gently cook the apples over a low heat for 3-5 minutes so that they are warmed through and have begun to cook. Gently turn them so that the butter or margarine and sugar are properly distributed. Switch off the heat.
Roll out the pastry top.
Take the pie shell out of the oven and fill it with the apples and perhaps a little blackberry jam or some fresh blackberries. You might want to add a little more sugar.
Use a rolling pin to carry the pie top onto the pie and settle it into place. You can brush the edges of the pie base with water first so that the pie is glued together. I just use gravity! You can also glaze the top with milk brushed on, or beaten egg as you wish.
Use a fork or knife to make holes in the top so that steam can escape from the cooking apples.
Put the pie back into the oven for about 10 - 15 minutes, or until ready.
Easy Apple Recipes:
Serving your apple pie
Serve your pie with fresh cream or crème frais. It's also good with custard. Yogurt is good, too and makes a good contrast if the apple pie is quite sweet.
I usually find it disappears very quickly indeed but it should keep for a few days, if need be, especially if you are liberal with the sugar.
Baked apples
If you want to do some apple baking but haven't time for apple pie or apple cobbler, don't forget you can bake apples whole on a greased baking tray, with just a few nuts and dried fruit, a dab of butter, a spoonful of brown sugar and a very little water to prevent sticking.
Use a baking tray which has enough room for the liquid, as the apples will ooze juices into the tray.
Read on for more easy and delicious apple recipes. First a selection of books for easy fruit cookery.
Sponsored links
Easy fruit cookery - some book choices
Here are some good books on using apples and other fruits in cooking:
Sweet Simplicity: Jacques Pepin's Fruit Desserts Jacques Pepin understands all about keeping it simple, light and low fat.
Cooking with Heirlooms: Seasonal Recipes with Heritage-Variety Vegetables and Fruits shows you how to get the best from your heirloom fruits. This is a beautiful book with numerous photographs illustrating recipes and the fabulous heirloom fruits.
See also the side panel for other excellent books on cooking fruit and other home produce.
Raspberry and apple cake



Here's a very slightly less easy apple recipe. It is easy really - there are just a few more ingredients!
This lovely cake was given me by a neighbour. It is absolutely delicious.
Ingredients
8 oz/ 200 gm self raising flour
6 oz/ 150 gm butter or margarine
2 oz/ 50 gm ground almonds
4 oz/ 100 gm of caster sugar
8 oz/ 200 gm eating apples chopped into cubes with the skin still on
2 eggs
3 tablespoons milk
8 oz/ 200 gm raspberries
2 oz/ 50 gm flaked almonds
Method
Line and grease an 8 inch/ 20cms cake tin
Sift the flour and rub in the butter. You can use a machine for this
Stir in the ground almonds and the sugar and apple.
Beat in the eggs and milk.
Fold in half the raspberries. Spoon it all into the tin,
Add the remaining raspberries on top
Bake it for 1 to 11/4 hours at 180 degrees. Test it with a skewer for readiness. Dust the finished cake with a little icing sugar.

Easy Apple Recipes:
Easy apple sauce



Apple sauce is a great accompaniment to many savoury dishes such as roast pork or duck - one of the best easy apple recipes for a fast result.
Take a pound of apples (Bramleys or other cookers but you can use a sharp dessert apple such as Granny Smiths).
Prepare the apples by peeling and coring them. Now chop into cubes or chunks. Add 1 tablespoonful of water to a pan and heat the apples though gently until cooked. A heavy bottomed pan is best. Add about 1 ounce of sugar - or more if you like your sauce sweetish. Stir in well until dissolved. Fluff the mixture through with a whisk. Pour and serve.
You may wish to add a knob of butter for a creamier product. You can also purée this in a food processor or sieve it carefully to remove any lumps and bumps.
It's good hot or cold. It will store in the fridge for a couple of days if need be.
Easy Apple Recipes:
An easy way to make homebrew cider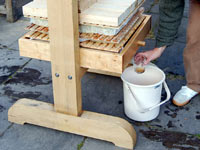 Cider is very easy to make if you have a plentiful supply of apples. You don't need to use traditional cider apples - practically any variety will produce an agreeable brew.
Collect your apples and give them a quick wash to remove any real dirt. Keep the skins on but cut out any unsavoury parts - rot, damage by insects etc.
Use a juice extractor or apple press to produce the necessary juice. You need to put the juice into a demi-john or any large vessel with a stoppered top.
Picture, right: an apple press is a great asset. Some community groups do apple pressing in the autumn.
Fill the jar up to the brim so that there is little space for air. Air will tend to oxidise the fruit juice. You can stir in a few ounces of sugar to help kick start fermentation. About 8 ounces to a demi-john is enough. If you add too much sugar you will produce wine - if you are lucky!
Stir the sugar in gradually to each batch of juice as you fill the jar. (Don't try to add it at the end because it will probably fall to the bottom of the jar without mixing in.)
Stopper the top with either an air-lock or a cork bung loosely fitted. (Gases from the fermentation need to be able to escape.) You can also use cotton wool inserted into the top as a temporary measure.
The first few days fermentation will be quite fast. You may need to remove some scum or froth so that the fruit juice does not bubble out of the vessel.
Do be careful that your container can take some pressure. If you do not fit an air-lock you will need to release the pressure frequently, especially in the first few days (otherwise you risk an explosion - messy andpotentially dangerous). A proper pressure barrel is a good investment if you have plenty of apples to use.
After a few days you should fit a proper fermentation lock. This prevents contamination with bacteria and other organisms.
This method uses wild natural yeasts on the skin of the fruit. you can, of course, use a commercial yeast starter if you prefer. Your results will almost certainly be more reliable.
Sponsored links
Disclaimer
Please note that this is a simple, rustic way of producing a basic cider from your spare apples. Be careful to sterilise equipment properly and pay attention to hygiene.
A friend of mine regularly makes cider this way which is quite drinkable. However, results can be variable. If you want a predictable, consistent outcome, use more modern methods!
Easy apple recipes:
Savoury easy apple recipes
(Or savory easy apple recipes, if you are from the Americas!) I haven't found many but here are one or two ideas.
A little apple goes well in many savoury dishes. Add cooking apple to stir fries and soups. Just don't overdo it - about half an apple (grated in soup, sliced small in stir fries) is enough for most dishes for two or three diners. The apple imparts a sharp tang which is quite pleasing in moderation.
Fried apple slices can be a good accompaniment to pork dishes instead of apple sauce. Cook them carefully in butter.
Apple slices are brilliant in salads, especially with a few nuts. Use sweet apples for this. Again, a little is best. Dessert apples are also good in rice salad.
Easy apple recipes:
Apple butter
Here's a traditional easy apple recipe.
This wonderful preserve used to be very popular in communities down the east coast of north America. It was made as a community endeavour (- perhaps it still is in some places, I hope so!) It is more tangy and dense than apple sauce and it will keep for about 6 months. Use it with meat and cheese as a kind of relish. It's sweet enough to use in pastries, too - a bit like a lemon curd. You can also use it like marmalade on toast - it has a tang like marmalade which is very appealing.
Ingredients
3 1/4 lbs of cooking apples, cleaned and roughly chopped
1 pint of water
1 pint of dry cider
1/2 teaspoonful of nutmeg
1/2 teaspoonful of cinnamon
juice and rind of a lemon
2 3/4 lbs of sugar

Method
Add chopped apples to the liquids and simmer until the apples are soft.
Sieve the pulp and add the lemon juice and rind and the spices.
Use 12 ozs of sugar to every pound of fruit pulp.
Warm the sugar before you add it by spreading it out on a baking tray in a cool oven. This is to prevent the mixture from cooling too much when the sugar is added.
Simmer and stir the fruit pulp mix on a low heat until it starts to become dry.
Add the sugar slowly, stirring all the while.
Keep stirring and simmering.
Test the butter by coating the back of a spoon - it should behave like a thin jelly.
Store the butter in sterilised bottles.

You can add other fruit, too such as blackberries, to vary the flavour.
I make some of mine with cider vinegar. The recipe is the same except I add about 1/4 pint of extra water and use 3/4 pint of cider vinegar. This makes a nice, tart preserve.
*****
Good eating! Bon appetit! I'll add more easy apple recipes as I find them.
If anybody would like to contribute a recipe, please go to Add Your Tips! on the Nav bar. Thanks and enjoy!
Easy Apple Recipes - top of page
Green Recipe Book - Organic Healthy Recipes


Greenfootsteps Home - for more easy green living tips