Eco-innovation for Business and Enterprise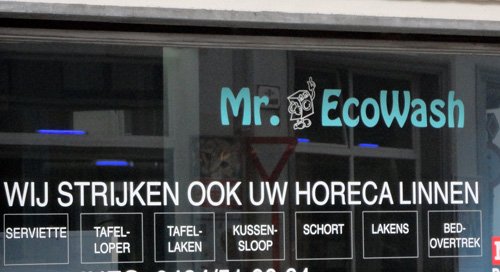 Eco-innovation is the buzz word in some new and emerging businesses. The EU is promoting green business thinking as part of the effort to combat climate change.
Europe has a mountain to climb to achieve very challenging carbon emission reductions before 2020. Part of the solution is to promote greener businesses; businesses which keep their carbon footprints low and which develop effective strategies to prevent energy waste.
There are many low carbon initiatives looking for funding and struggling to find a place in the market. Lots of existing businesses also need upgrading to become more energy efficient. Finding funding is becoming more and more challenging.
Picture: A Belgian eco-laundry window display
Eco-innovation and economic growth
We all know that economic growth creates wealth but not all economic growth is sustainable.
The European Union now has 3.4 million jobs which contribute to the green economy. This might sound like a lot - but the EU countries have a combined population of over 500 million people. We could do so much more! With suitable eco-innovation the EU should be able to promote economic growth which is not at the expense of the environment.
Here is one way that the EU is helping - at least with the more innovative end of the spectrum of businesses.
Funding eco-innovation
Take a look at the Europa website - link below.
There is money available through the European Union for genuinely innovative businesses with a green agenda. The programme has been going since 2008 and is still going - despite the economic woes - in 2013.
This eco-innovation initiative from the EU will help to fund business start-ups and existing businesses. Millions of euros are available to support businesses which have a positive impact upon the environment, whether it be by promoting recycling, creating greener building materials or developing more sustainable food methodologies.
All businesses will undergo scrutiny to make sure that their business models address a number of environmental goals and genuinely contribute to lowering greenhouse gas emissions or in some way directly benefit the environment.
Water conservation and more efficient land use are two other areas of interest. Our weather patterns become more volatile as the planet warms up and this means that some areas are more prone to drought and others are more frequently affected by flooding. Water conservation and efficient and sustainable land use are therefore crucial. Any business innovations which address these concerns will become highly valuable in the years to come.
If you browse around the pages on Europa you will get a good idea of the kind of business that they are hoping will apply for funding.
Small and medium enterprises (SMEs) are welcome to apply as well as larger businesses and there is even funding available for higher education institutions under certain circumstances.
Eco-innovations already funded
You can see projects from 2010 and earlier years on the website (downloadable pfds).
Projects which have already received help include a university-led eco-innovation which harvests CO2 from brewery fermentation and a company which manufactures lighter airplane parts.
There is also a company which is building an anaerobic digester which removes fat from waste water. Waste water can be a potent source of environmental contaminants, of which fat is one.
If you are involved in a business which is developing any kind of eco-innovation, then it is well worth exploring what the EU has to offer through this initiative. If your business has more of a social or campaigning slant or if it is scientific in nature there are also other EU initiatives which you can also reach through the same website.
Crowd funding resources
As funds in Europe dry up, thanks to the challenges of the economic woes surrounding the Euro and following the banking crises, more alternative sources of funding are beginning to emerge.
Many people are disenchanted with banks which award large bonuses to senior staff - and then find it hard or impossible to lend to small and medium enterprises. They have started to vote for new systems and new methods - just by signing up to crowd sourcing and crowd funding websites.
So what is crowd funding?
Crowd funding is a way of funding new business and social enterprises by the crowd - large numbers of people willing to invest small amounts.
Here are a couple of websites you could check if you would like to know more:
There are lots more similar organisations. I believe Kickstarter now accepts UK initiatives onto their programme.
*****
Sponsored links
Eco-innovation for Business and Enterprise - top of page
Green Energy - Solar Power for Homes