Cleaning with Microfiber Cloths
Microfiber cloths - what are they good for? And how green are they?
Here's why you should use microfiber cloths in your household cleaning programme: it's just that they enable you to dispense with chemical cleaners. Simple as!
Without using these cloths it is still possible to leave the hazardous chemicals in the store but your cleaning results won't be as fast or as thorough.
I've been using microfiber cleaning materials for a couple of years now and I'm consistently impressed with the results.
What are microfibers cloths?
They are household cleaning cloths made from spun material that has very small constituent fibres.
Most microfiber cloths (or microfibre cloths if you are European) are made from a polyester/polyamide mix. Each strand of material is less than one denier i.e. a good deal smaller than the thread used in the sheerest nylon stockings or tights.
What makes microfiber cloths so effective?
If you look at microfibers under the microscope you will see a complex profile caused by the inter-meshed strands of material within a tiny amount of space.
Microfibers can be made up in a variety of ways to suit different purposes. For example, they can be woven or knitted, and be relatively rugged or smooth in surface. They are capable of being made in a way that results in a very smooth profile that is less likely to cause damage but even so, they collect dirt effectively when wiped across a surface.
They are particularly effective because they collect dirt in the fabric very easily compared to cotton. They also have the advantage that they create no lint – that is no small pieces fall off during use.
They can also hold up to seven or eight times their own weight in water which also helps with their superb cleaning properties. You can also use them dry for dusting. They leave a streak-free finish when used damp. I now use them to clean windows in place of the traditional newspaper and vinegar.
They are useful for cleaning almost anything. The tiny fibres will mop up dirt right into corners and crevices. They work well on steel, glass, paint and varnish – all manner of different surfaces.
They are also electrostatic, which means that they actively attract dust and even grease, due to the local electric charge that builds up on a cloth as it is moved over surfaces.
Microfiber cleaning cloths have natural antibacterial properties and do not seem to become smelly like other cloths. They can be renewed by simply washing in detergent and water.
You can buy microfiber cloth packs from Amazon: Zwipes Microfiber 36-Pack of Cleaning Cloths should last a very long time!
Different cloths for different purposes – not just the house!
There is a wealth of different grades and mixes and weaves on offer to suit a myriad different purposes. As microfibers are so absorbent, you can buy bathroom towels, and kitchen drying towels made from them.
They are to be found in hospitals and clinics and anywhere a germ-free environment is needed. Microfiber cloths will clean away up to 99% of germs. In addition, some cloths are treated with silver to make them even more anti-bacterial. Surgical towels and huck towels can be made of microfiber.
Sports people find microfiber towels useful, whether for mopping away sweat or for after showering.
Microfiber wipes and cleansing cloths are available for beauty and personal hygiene. Facial cloths may be extra good for people with acne or other skin complaints because of their anti-bacterial properties.
Pets also come in for their benefits as they can be used for grooming and other pet-hygiene uses.
Microfiber suede is suitable for cleaning jewellery and other fine products such as cameras and phones.
Using microfiber cleaning cloths in the home
So far, I've noticed no problems with them at all. I've even used them to refresh interior paintwork. Just clean emulsion painted walls with a damp microfiber cloth and watch the dirt and dust just vanish into the cloth. With stubborn stains a bit of the paint will start to come off, too, so it pays not to be too diligent. If there's a lot of paint on the cloth you might just be better off repainting! I cleaned my kitchen walls and ceiling just using microfiber cloths and the results were impressive. It looked like I'd just repainted it. There were a few areas that were beyond redemption, around the skirting boards, so I just repainted those.
Microfiber cloths can also be used for any general cleaning purpose such as cleaning the bath, cleaning tiles or mopping the floor. They are particularly useful attached to the floor brush of a steam cleaner, as they both clean up dirt and remove excess moisture.
Microfiber cloths can be used for TV and computer screens. As these cloths hold dirt so well, it is wise to use a new or newly cleaned cloth only for this as otherwise dirt might be brought to the surface and smeared or scratched across it – hardly desirable.
You do not need to use special cloths for each function – but it helps. There are special types on sale for cleaning windows or for countertops. The only exception is the use of microfiber cloths for specialist or delicate equipment such as computer screens. For such uses it is always wise to use the correct type of cloth and to only use the cloth in the recommended way.
Renewing the cloths? - just use detergent
These cloths can then be washed in a normal wash cycle to remove the dirt. Microfiber cloths retain their properties best when washed in detergent rather than soap based products.
I just put them in with an ordinary coloured wash load. So far I've had no problems.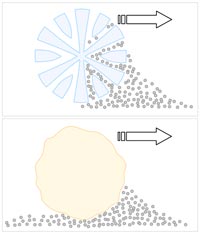 The picture, left, shows how the structure of microfibers help the cleaning process by collecting and holding the dirt. The top image is microfiber and the lower one is cotton.
Picture: Thanks to Vassia Atanassova (Wikipedia Creative Commons)
Microfiber cloths:
Are there any environmental concerns?
Microfibers are flammable and the gases emitted will be toxic, so it is important to re-use them for as long as possible and then dispose of them carefully.
They are not biodegradable, that is, they will sit in landfill for years on end and not rot or break down into component parts.
The chemicals from which microfiber cloths are made are from the petrochemical industry.
In this sense, cleaning cloths made using microfiber materials are not so environmentally friendly. However, if you use them responsibly, they should save on a lot of toxic products which can potentially pollute groundwater and cause health problems for the user.
*****
Cleaning with Microfiber Cloths - top of page
Green Cleaning - Natural Household Cleaners
Copyright Greenfootsteps.com, 2011