Cheaper Organic Food
Good quality organic food can be expensive. Here are some ways to make it a little more affordable. We start with a quick look at growing your own - but this route will not suit everyone. Fortunately, there are quite a few ways to source organic and wholesome, well-grown food reasonably cheaply.
Sponsored links
Growing organic food yourself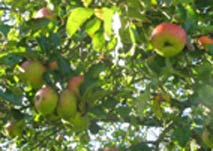 Organic Food:
The most sure-fire way to cheap organic vegetables is to grow them yourself. This is not everyone's choice, of course, but if you grow even just a few simple crops in the season you will have some fine organic food to add to your table.
The skills involved in growing salad vegetables and fruit can be learned by anyone with a little determination and persistence. Yes, there will be set backs. Even experienced gardeners have crop failures. But a complete novice can have some great successes too!
Some of the easiest crops to grow (in temperate climates)are: lettuce, saladini, radish, courgettes and summer squash, winter squash, beans - runner, broad, French and snap, onions and leeks, broccoli, carrots, parsnip and potatoes.
You will find straightforward cultivation notes for most of these in the How to Grow a Vegetable Garden section.
If you don't have much space, you can grow herbs and some salad crops on your patio or your yard in containers, or even on your windowsills. For cultivation tips for containers check Designing a container garden


Sprouting seeds - cheap, easy and nutritious
Another money saving idea is to grow sprouted seeds. These are the best value ever!
There are so many different seeds to choose from and they can seriously beef-up your calories and your vitamin and mineral intake at the same time.
You are getting a food which has clocked up precisely zero food miles, too! (Well, yes, you have to buy the seeds - unless you are really organised and grow your own...You can save your own seed for sprouting, which again makes the process cheaper.)
They are also 100% organic, of course, because you control the whole process.
Seeds to sprout
Fenugreek, alfalfa, radish, broccoli and mung beans are all easy to sprout at home. The growing process is really simple and there is very little that can go wrong - apart from forgetting to water them of course.
The equipment needed is also very easy to find. All you really need is an empty glass jar, though of course you can buy specialist kit too.
If you would like to look more closely at this method of growing your own food, check out this link: Sprouting Seed for Tasty Organic Food
Mushroom kits
Mushroom growing packs might be worth a look. These are not particularly expensive and they are reputed to give decent crops over a good period if you follow the instructions. I haven't got around to trying one myself yet, but I'll give you a first hand report just as soon as I do.
Organic Box Schemes
Organic Food:

This is where a local organic food producer delivers a box of organic vegetables and fruit to your door - usually once a week.
These are popular here in Britain and vary in cost and quality. They tend to be quite expensive but I found that because you were paying quite a bit you tended to use everything religiously. So if you are getting a regular delivery of an organic box of food you can plan around it to make sure that it is used effectively.
Recent surveys have shown that many consumers in the west tend to throw out as much as 30% of the weekly shop. So we might as well buy organic and throw away far less!
Some box schemes also deliver organic bread, pulses, cheeses and sometimes imported organic food. Some offer choice via a printed order form and some offer no choice of vegetables (get what you are given and like it!) but you can choose the size of box, or stipulate that you don't ever want cabbage (for example).
Farm Shops
Organic Food: Farm Shops
These are increasingly popular here in Britain. Some of them are very good indeed and they are often significantly cheaper than supermarkets, greengrocers and health food shops, particularly for vegetables. There are also some very up-market ones, too where the food comes at a premium. Many farm shops also sell good quality wholegrains, pulses and bread, so you can buy almost everything you need for your table. Some also have visiting fish stalls and other services.
The main draw back to farm shops is that you often need a car to reach them. They are not all organic, of course.


Farmers' markets
Organic Food:
There has been a fantastic rise in the number of farmers' markets here in Britain, starting with one in Bath 20 years ago. They offer a great way to buy quality organic food. They are often rather pricey but as with most markets, if you show up as they are beginning to pack away, there are often bargains to be had!
Some of the best cheese I have ever eaten without leaving these shores was bought in a tiny farmers market in a local village hall.
Try typing in "Farmers markets" + your country or area name + organic into a Google search (or other search engine) box. There are thriving markets in Canada and the USA; I'm sure this will be true for many, many counties and areas.
Organic Food:
Bulk Buying Organic Food
It's worth considering buying some things in bulk if you have storage space. A whole sack of potatoes for example can be a good investment.
You need to be confident that you can store vegetables in the right conditions. Potatoes will not store well in a sub-zero garage or outhouse, for example.
You need to think about vermin, too; mice and rats will try to eat almost anything stored in outhouses and sheds.
Also big sacks of produce do deteriorate with time so it may be best to team up with a neighbour or friend to take advantage of bulk buying.
You can also think about freezing some things. A large sack of carrots, say, could be split and 3/4 of it cooked and then frozen.

Organic Food:

Food Co-ops
Food co-ops became quite popular in Britain in the seventies and eighties. Small groups of people came together to do a communal food shop from a big wholefood supplier.
Volunteers would then divide up the food and weigh it out into smaller bags and packets. It was all very labour-intensive but it did provide a realistic way for many people to afford good quality wholefoods and organic foods.
The main problem was that volunteers would not only be needed for bagging up the food but also to drive to the warehouse to pick it all up. These days some large suppliers recognise food co-ops and will deliver bulk orders to individual co-op members.
There's nothing to stop anyone forming a food co-op. Just be careful about the division of labour!
There are still quite a few food co-ops about: vegans often participate because vegan food can be expensive. Try typing "vegan + food co-op + your area or country" into Google - or other search engine - to find a group. A lot of food that suits vegans is eaten by other people wanting wholefoods and organic foods, too.
Custom Search
Return to Green Shift - Living Well on Less from Organic Food for Less
Greenfootsteps Home - for more easy green living ideas