Designing a Container Garden


- for pleasure or practical crop production at home
Is it worth designing a container garden? Is it a green thing to do? What are the benefits of designing a container garden for your home? 
This page gives details of tips and techniques of container gardening from a green living perspective.
If you want to grow things but you haven't much space or if you have a paved area or a flat roof which you want to green up, a container garden may just be the answer. You can create a wonderful display of flowers and ornamental plants. Container gardens are also great if you want to grow a supply of herbs or small vegetables close to the kitchen door. This can be a great way of contributing to your green living plan. You can even reduce your food miles if you grow a few successful container crops.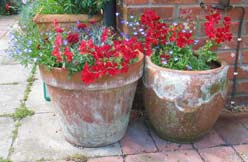 Picture, above: Pelargoniums (geraniums) in planters
What is a container garden?

So first, what do we mean by a container garden exactly? What counts as designing a container garden?
A container garden is quite simple, really.
A container garden is just a group of containers or planters, usually of different sizes, potted with a variety of plants such as flowers, herbs and even fruit.
The trick is to develop an integrated look so that your group of containers appears a bit like a proper garden! This is quite possible to achieve once your plants are established and well-grown. You need to have enough of them and to group plants effectively together.
What kind of containers do you need?
The choice of containers is endless.
Designing a container garden can involve the use of recycled items such as old chimney pots or wheelbarrows that have finished their useful life.
You can make your own purpose-built containers, or you can buy plastic, wood or metal ones in a huge variety of styles, shapes and colours.
For a vegetable and herb container garden you can use mainly recycled tubs and boxes, so your container garden does not need to be expensive.
Be careful to avoid toxic materials, especially if you are growing edible plants. Lead planters from the antiques shop might look very wonderful - but do you really want a serious poison in your garden?
Designing a container garden:


What can you grow in a container garden?
Practically anything! But the plants chosen have to be well adapted to life in a container.
Designing a container garden that's easy to run, it's best to avoid larger and hungrier plants.
Many common vegetables can be grown in containers. If you don't have a garden or backyard that is big enough for growing rows and rows of veg, containers can be a good way to grow some useful green crops. Home made planters made from recycled household objects can be quite good for this kind of container garden.
You can also grow bedding plants in containers and if you are good at keeping up with watering and feeding your plants, you can grow small trees and shrubs. Some small fruit trees have been developed for patio planting. Many urban gardeners now grow fruits quite successfully on patios and balconies.
The trick in successful container gardening is to provide conditions which are as near perfect for the plants as possible, watering and feeding them well.
You can find quite a wide selection of planters and containers at Amazon- such as Esschert Design nesting flowerpots or colourful designs such as this handmade large flowerpot with grapes from Italy. Always check that products are suitable for outdoor use as some glazes may break down after repeated exposure to varying temperatures. Frost can be especially damaging.
Designing a container garden:

Choosing a good compost for your container garden
If you start with good quality compost you can rear plants quite intensively and yet still grow organically.
See here for how to make your own high quality compost
If you are buying compost, buy peat-free if you can. Peat bogs are environmentally sensitive habitats which are being drained and harvested at an alarming rate for commercial gain and short term benefits to gardeners. Peat is a wonderful material but so is coir, which is far more sustainable.
It is important to consider the types of plant you are planning to grow when you are designing a container garden. This will dictate the specific type of compost or soil needed in many cases.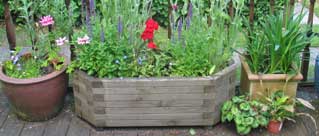 Picture, above: Some small planters with mixed herbs and flowers arranged on a balcony
How to begin your container garden
So what's important when designing a container garden?
The first thing to think about is the site.
Is it exposed? Where does the wind tend to come from? Is there any shelter? Could you provide shelter – perhaps by putting in a willow screen fence for example?
Also consider how much sun your plants need or can cope with. A container garden which is in full sun all day will tend to dry out quickly.
Once plants are established they will protect each other to some extent from excess wind and sun but it's worth avoiding the more delicate and tricksy ones.
Make watering easy!
You should choose a site where watering is easy. (You will have to do quite a lot of it, after all.) Perhaps locate your containers very close to a water butt for example.
You can also buy, build or find containers which are relatively slow to lose water. For example, terracotta pots retain water in the body of the pot and so long as you haven't put your pots in an exposed position, this can help you keep things damp for longer.
There are also products available that help with slowing water loss. These Hydrosorb moisture absorbing crystals, for example, can make the job of keeping containers hydrated much easier. Vermiculite holds water well. Buy from a reputable source, as some vermiculite deposits have been known to contain asbestos particles. This is less of a problem these days, but it's good to be vigilant.
Decisions! - what goes with what
It's important to consider all these issues in the light of what plants you are hoping to grow. When you choose your plants, make sure that they will work well together if they are sharing a pot or planter; you need plants which have compatible soil, temperature and shade needs, on the whole. Study the plants characteristics carefully when you look at the catalogue or when you visit a garden centre or nursery for your plants.
Clusters
It's a good idea to have several (about five or more) pots in a cluster. Different sizes look well together. The largest pot should have something fairly big and dramatic to give shape to the grouping.
You might want to create a beautiful display of flowers or mixed herbs and flowers. This can work well if you choose a variety of shapes and colours in the plants you use.
You may also want to think about emergency shelter for when the weather gets rough. For example beans in a container can be brought into the greenhouse or shed for a day or two if the wind takes off. If the pot used isn't too big, this is quite realistic for some more tender crops.
Designing a container garden for your roof or balcony
You can grow container gardens on a flat roof-top or on a balcony. All the above still applies, but it is very important to think about weight.
You don't want to damage the roof – or your back – so choose light-weight containers. Potting compost can become very heavy when wet. And plants get heavier as they grow. Balconies too, may be unsuitable for heavier items.
Use perlite and vermiculite in the potting mixture to keep the weight down. Keep an eye on any large plants which might be becoming too heavy for their site.
Think about exposure, too because larger plants can blow over in high winds and cause damage if they are sited unwisely.
Get advice from a builder or engineer if you are in any doubt about the strength of the structure before you load up with plants.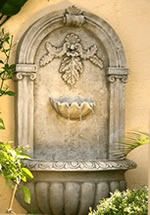 Roof-top and balcony gardens and other container gardens can still incorporate some interesting features. For example, you could find a spot to hang a bird feeder, or tuck a lacewing home into a nearby wall.
Fountains and water features can also be incorporated, too, especially if you have an adjacent wall. Cast stone wall fountains can add a delightful sense of peace and tranquillity. One of the advantages of a vertical water feature is that it takes very little space and yet it still looks attractive. It also works as a magnet for birds and butterflies!
If you have room, a stand alone solar fountain such as this one from Amazon can be very agreeable and will certainly help attract birds and even bees to your container garden.
Picture above right: A stone water fountain can add another dimension to your container garden
Read on here for more details of planting containers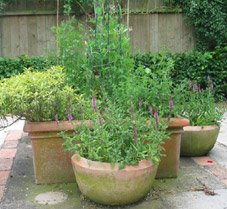 Picture: A container garden of culinary herbs
Designing a Container Garden - top of page