The Best Insulation for Homes for Green Living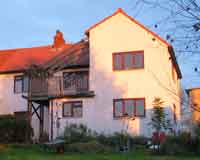 What is the best insulation for homes?
Picture: external wall insulation
The best insulation for homes for green living and sustainability must be non-toxic, durable insulation with high U values.
With around one third of the heat we put into our homes leaving through uninsulated walls, external wall insulation is a really worthwhile investment.
The best insulation for your home will depend upon the type of house or flat you have and your needs. It will also depend to some extent upon your climate.
Here is an article about one the very best kinds of home insulation for modern homes.
The best insulation for the whole house, in my opinion, is external wall insulation. Here's why.
The best 

insulation for homes

?

External wall insulation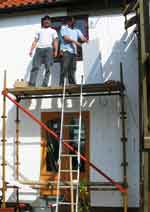 External wall insulation can be added straight on to the exterior of your home. The process can take a few days to be installed. The cost is not cheap and you may have to search to find a competent supplier and installer, as this is not yet a very popular way to do insulation.
This kind of insulation can also be eco-friendly because it can make it possible to rescue properties which might otherwise face demolition. Housing standards continue to rise and thermal performance is an important consideration.
Picture: external wall insulation being applied to my house
This type of home insulation is becoming more common for new build houses and offices, but has not yet really taken off for retro-fitting older buildings. However, this could change as more people begin to understand the benefits.
How external wall insulation works
Suppose you are dressed warmly enough for inside your house but it is cold and windy outside. You put on a thick wooly sweater and over the top you add a breathable, Gortex-type coat over your clothes. Now you are well insulated against the cold and the Gortex jacket stops the wind chill.When you put external insulation on a house, this is pretty much what you are doing.
You add a dense layer of polystyrene insulation boards to the house wall. This is glued on with special adhesives - or sometimes it is mechanically fixed in place. A flexible mesh is then used to cover the insulation boards. This is then covered with a thin, slightly flexible base layer, which looks a little like traditional render. This provides a breathable surface which stops fast heat loss from the house surface. Over the top of this a thin layer of sharp, crystalline top layer gives the finishing touches.
The finished house looks a striking, clean white and you never need to paint it or carry out maintenance again - beyond ensuring there is no physical damage from impact, for example.
The reason external wall insulation works so well is that it prevents most of the surface radiation and conduction of heat from the surface of the house.
The best insulation for homes?
What about other surfaces?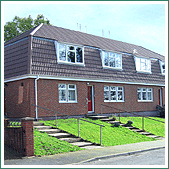 You can have coloured surfaces or a patterned top layer. If you want your house to look like a Suffolk farmhouse, with a deep pink hue, or you want your house to look as if it is made of brick, all this is possible. Brick "slips" can be added for the final layer. They are a lot thinner than actual bricks but look just like them.
The houses in the illustration look very similar to other modern houses. This product does not necessarily advertise itself by looking different or distinctive!
Picture above thanks to Whetherby Building Systems
How green is external wall insulation?
Polystyrene is perhaps not the very greenest material on the planet. However, this system should last for years and years without any maintenance beyond an occasional clean. The very best insulation for homes in the future may use other more sophisticated products which are less potentially damaging to the environment.
For now, we have external wall insulation which incorporates the high U values of polystyrene and is likely to do a good job for years to come.
The final (top) layer is very tough and durable and does not easily get dirty. It protects the relatively vulnerable polystyrene bats from damage and damp.
The insulation provided is very good indeed, providing both improved room temperatures in winter and keeping fuel bills to a minimum. And, of course, this type of insulation significantly lowers your carbon footprint.
How do I know?
We had external wall insulation installed on our house back in 2000.
It halved our fuel bills and makes the house more comfortable in winter and in summer. It has become far more like a Suffolk farmhouse (the ones with the really thick walls) because the heat is kept out in summer - though, in fact, it is just a cheap-built 1920s house with a single skin of bricks! This meant that before we had the external insulation applied, the heat retention of the house was very poor indeed - and cavity wall insulation was not an option.
The wind chill factor is almost obliterated - except that we still lose some heat from windows and doors.
The outer skin is tough and stable. The colour has stayed pretty much the same for the last decade and there is no need to maintain it by painting or other applications. There is some slight discolouration from dirt, in particular from our summer visitors, the house martins. For me, the price is worth it as they looks so brilliant flying in and out in summer. The young birds often perch on the windowsills when they are learning to fly. I understand from the builder that the surface could be cleaned with a pressure hose.
We have experienced no damage to the external wall insulation so far in the twelve or more years that it has been in place. No-one has yet driven into it or otherwise abused it but it appears to be resilient and tough enough for ordinary stresses from wind and weather and the odd stray football.
Sponsored links
The best insulation for homes?

How does external wall insulation compare with cavity wall insulation?
Is cavity wall insulation the best insulation for homes? I don't think so!
Here in Britain, cavity wall insulation is still the accepted standard. It is quick and relatively cheap but it is nothing like so effective as external wall insulation. It's a bit like going outside and, instead of adding a coat, just adding an extra sweater.
The whole point of cavity walls was to create a void between the bricks, so that dampness could not penetrate. When you use cavity wall insulation, you are bridging that gap.
Of the various materials available (mineral wool, foam and polystyrene beads), foam is the best for not causing damp problems. However, this is a potentially toxic substance.
Another problem with cavity wall insulation is that you have just made the exposed outer layer of brick work even colder and damper! This can cause problems with corrosion of brick ties, which then have to be replaced. Some houses may even develop damp problems as a result of cavity wall insulation being installed.
External wall insulation actually improves the air flow through the brick work, keeping it all as "inside" and therefore dry and warm. The external layer takes the brunt of the weather.
One of the added benefits of having exterior wall insulation has been the elimination of damp problems in our house.
For me, this is the best insulation for homes that money can buy.
*****
Top of Page Best Insulation for Homes
Back to Green Homes - Easy Home Improvement Projects

Greenfootsteps Home - for more easy green living ideas