An Easy Crabapple Jelly Recipe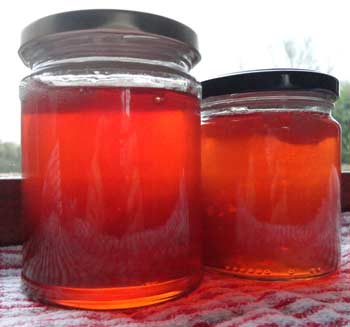 This crabapple jelly recipe is a real cinch.
Crab apples (or crabapples) are those wonderful, sour small apples that you sometimes see in the countryside. The crabapple tree is a native of the temperate areas in the northern hemisphere. The main way of using crabapples is in a crabapple jelly recipe. They can also be used in cider making. They come in a variety of colours from bright red to lemon yellow.
You just need crabapples, water and sugar.
Picture: Crabapple jelly - the finished product
You can add other ingredients if you choose. Some people add a little lemon juice. It's not strictly necessary as crabapples are quite high in pectin, so the jelly sets quite easily without any additional help.
Crabapple jelly makes a beautiful gift for friends and family members. It can turn out a attractive pale golden colour, or it may be a deeper hue, or even pinkish, depending on the crabapples used.
Many crab apples may not be true crabs, but rather small wild apples. As long as they are sour and tangy, I guess this does not matter. The ones shown below (despite looking horrible) made a pretty respectable jelly using the crabapple jelly recipe below.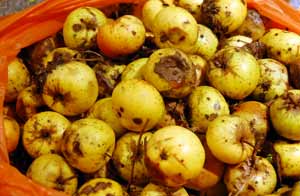 Picture: Crabapples fresh from the woods - they may not appear too tempting! We picked these ones rather late in the year.
Where to find crabapples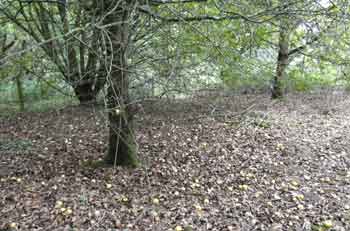 Picture: Crabapples found in the woods, scattered beneath the tree
We find our crabapples out in the countryside. Whether this is possible depends a lot on where you live. There are quite a few old crab apple trees in old woodlands and some parkland. You can occasionally find crab apples on sale in rural markets or farm shops.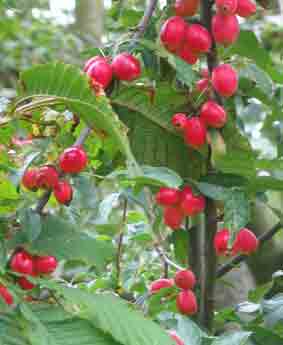 Crab apples (Malus sylvestris and the cultivated varieties) are wonderful trees for the birds and they are helpful for ensuring pollination for other apple types, so they are a great asset to have in your garden. If you buy one specially, try to get one with reasonably large fruit. Some varieties have really tiny fruit so you have to practically denude the tree to get a panful of apples. We made this mistake, as I was just thinking about the birds and the tree's appearance when we bought ours.
Picture: One of our garden crabapples. The blackbirds enjoy the fruit late in the year.
Read on below for my crabapple jelly recipe and method.
Sponsored links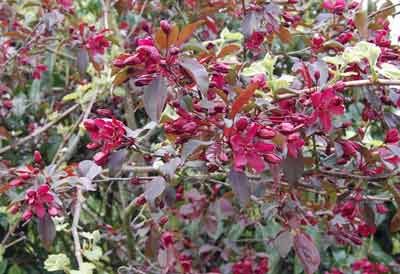 Picture: Red malus flowers in spring. The pale leaves are from the grapevine, which travels everywhere. The fruits are small and dark and I have not tried them for making jelly.
Crabapple jelly recipe - equipment needed
You just need the same equipment as you would need for jam and jelly making. A maslin pan or preserving pan is an asset. If you do no have one, use any large stainless steel pan, preferably one with a deep, heavy base.
Use muslin or a jelly bag for straining the pulp. Wooden spoons are desirable for stirring and skimming. Preserving jars are a good investment but recycled jam jars work perfectly well.
You can buy all kinds of jam and jelly making equipment on Amazon (US site).
A simple crabapple jelly recipe
Collect your crabapples and give them a good wash to remove any dirt and debris. Slice each crabapple in two so that you can check for disease. Discard any that are discoloured or wormy. Don't worry about the core or skin – it's far too time consuming to remove them and completely unnecessary.
Put the chopped fruit into a large pan and completely cover them with boiling water and set them on the stove. You will need to boil them for half an hour or more until they are thoroughly mushy. Keep the lid on so that they do not dry out at all. If they do tend to dry out, just add more water.
Once the fruit is good and pulped, set up a jelly bag over a pan or bowl. If you don't have a jelly bag, a piece of muslin – or even a clean tea towel will do just as well. 
Pour in all the fruit pulp and let the juices drip through the cloth into the pan. This can take hours. It's quite important to not squeeze the bag or press the fruit. Just let gravity and time do the work for you. If you squeeze you will get too much pulp coming through the mesh and it will make the crabapple jelly cloudy. Not so great if you want it for a present!
When the dripping has stopped, decant the juice into a measuring jug. For every 5 units of juice add four units of sugar, in other words, if you have a pint of juice you will need to add 4/5ths of a pint of sugar. You can use slightly less if you like.
Put the juice and sugar into a large, deep pan, preferably one made of stainless steel as this gives a good result. Enamel pans are also fine to use.
Bring the mixture slowly to a boil, stirring all the time to make sure the sugar dissolves. Once you are certain that the sugar has all dissolved you can bring the juice to a fast boil (this is why you need a big pan). It will gradually get quite frothy and the bubbles will rise up in the pan. Keep stirring occasionally to make sure that the jelly does not burn or stick to the bottom of the pan.
After a few minutes the mixture will start to thicken slightly. The best way to test for the setting point is to drop a few drops of jelly onto a cold plate. Let it cool and then see how much it runs by tilting the plate. When it's ready it will scarcely run at all and if you push it with your finger you will see faint ripples forming in the surface of the jelly. Once you get close to this point (i.e, the jelly is not still totally runny, you should switch off the heat, so that you do not over-cook the crabapple jelly.
Spoon or pour the jelly into sterilised jars and cover with sterile paper discs to prevent contamination. Cover the tops with cellophane, label and store.
Probably the easiest way to sterilise washed, dry jars, is to place them in the oven for a few minutes until they are quite hot. If you pour in the jelly while the jam jars are really hot, the hot fluid will not crack the glass. If there is a big temperature difference between jelly and container, always use a metal spoon placed in the jar to conduct the heat away. This saves disappointment from cracked glass and ruined preserves!
How to use crabapple jelly
The resulting crabapple jelly goes well with meat – or even cheese and can be used as a relish. There's no reason not to use it as a kind of tangy apple marmalade on toast or bread either.
If you want a sharper taste, use a little lemon in the recipe. You could also add a little fruit such as damsons for a different colour and taste.
You can probably make this crabapple jelly recipe using a microwave. I haven't tried this yet - but microwave jam is quite easy and fuel efficient. See Easy Fresh Plum Recipes for more details.
I'm sure there are many more ways of using crabapples. I'll be trying them out in several dishes as the season goes on. I've tried them as part of a fruit leather recipe with moderate success. Crabapples can be added to pork as it cooks but prepared crabapple jelly is a safer bet.
If you have a crabapple jelly recipe or any other crabapple recipe to share, please see Add Your Tips! on the nav bar. Thank you.
Crabapple Jelly Recipe - top of page
Green Recipebook - Organic Healthy Recipes 

Greenfootsteps Home - for more easy green living ideas
Easy Crabapple Jelly Recipe,
Copyright Greenfootsteps.com 2010
Please do not copy without permission.