Electric cars 2009 - What is Out There?
Electric cars 2009: Which electric vehicles are ready and rolling off the production line?
This page focuses on some of the best electric car models which are available right now (in 2009 and years following) in Europe and elsewhere.
(This page was written in 2009 but I'll leave it here as not so much has changed in the last few years. There still are not sufficient charging points to enable electric cars to take off on a big way. Also, I believe that the issue of travel distance has not been successfully resolved - so electric cars are still a bit of a minority interest. ) 
Not all the electric cars now available are discussed here, of course. There are lots of small manufacturers of Neighbourhood Electric cars (NEVs) but this page mainly looks at electric cars which are able to go on major roads.
Electric cars are rising up the agenda
In Britain the government has just announced a new initiative to promote electric cars. A network of charge points are planned and consumers will be offered large cash incentives to switch to electric cars.
(Update 2013: The £5000 rebate offered in the UK has not been especially well received; people see it as a bonus for the rich, as electric cars are still beyond the pocket of most people.)
Electric cars do not necessarily save on carbon - but they are cleaner at the point of use. While we still used coal-fired power stations to generate much of our electricity, the benefits of electric cars are mainly to do with localised pollution.
Electric cars are gradually gaining ground in the public consciousness. At this year's Detroit auto show (2009) General Motors, Ford, Mitsubishi Motors and Tesla Motors are all displaying electric vehicles.
Here are some of the best and most user-friendly electric cars on the market in 2009. Most of these are electric cars available now.
Electric cars 2009:


The Smart ED
The Smart Car has a new incarnation as an electric car. The Smart Car has always been designed for efficiency and affordable motoring.
Now you can get the all-electric version. The Smart Fortwo ED (electric drive) has a range of around 75 miles so it really just suitable for commuting, shopping or the school run. Punchy it is not. It will deliver 0 - 30 in around 6.5 seconds which is probably quite punchy enough for urban driving. You can plug in at home and Smart is offering deals with green energy providers so that you can really have a zero emissions car (ZEV) to make you feel better about your carbon footprint!
This one is not quite there yet - it should be available later this year (2009). 
(Update 2013: 3rd generation Smart Eds should be available by late 2013 in Europe and the US. They are now more powerful and have a lithium ion battery - and can go up to more than 80 miles on one charge. Car2go is now using them in the US, in Austin and other cities.)
Daimler and Mercedes-Benz are collaborating on bringing a new generation of Smart cars to our streets. The Metropolitan Police in London are just getting on the bandwagon and councils around the UK are seeing the benefits of electric car fleets for routine work around towns and cities. Smart has also improved the safety features of the Smart car chassis and box.
Electric cars 2009:


Nice cars!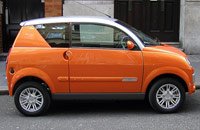 NICE is an electric car company which is based in Europe. Nice stands for No Internal Combustion Engine.
One of their latest designs is the Mycar which won an award for being the best electric car of 2008 from GreenFleet. It is rather small but not unattractive. There is room for two adults and some luggage. It does 40 mph, runs for about 60 miles and needs 5 hours to charge up. It is classed as a coupe though. Also available is the MegaCity at around £11,500. This is also basically a two-seater, though there is a reasonably generous luggage space.
Picture: The Mega City from Nice cars. Image thanks to Exfordy on Flickr
The Tazzari Zero is a new zero emissions car from Italy. It will be available by the end of 2009 in the UK from Nice cars. It's going to be quite user-friendly as the re-charge time is only 45 minutes and it can go for an impressive 150 kms (that's almost 100 miles for those of us who still enjoy Roman distance measurements!). It will also manage 0-50 kph in less than 5 seconds which probably makes it almost a joy to drive around city streets.
The Ze-O makes family motoring a realistic proposition. It is a five door hatchback which does not cut corners when it comes to safety or good looks. It retails at £14,000 so it is not quite a cheap car. At 55 miles per hour maximum speed it should feel like one of the pack out on urban roads. Its big draw back is that the battery takes a good eight hours or more to recharge - and yet it only has a range of 40 odd miles.
Electric cars 2009:


The Reva or G-Wiz
These little cars are only really practical for city driving. They are small and quiet and some would say a tad ugly. Jeremy Clarkson of Top Gearloves to berate them as the worst car to his fans. He even smashed one up to prove it was unsafe - but this backfired as in the EU it is classed as a "quadricycle" rather than a proper car. In other words it can be as vulnerable and flimsy as a bicycle and get away with it. This seems a little unfair - as it is actually marketed as a car. Safety is now being upgraded by Lotus Engineering to make it safer. (Update: a particularly distressing fatality makes the safety criticism even more appropriate - see below.)
Nevertheless, for urban transport they are certainly inexpensive. It will do only 40 miles on a full charge, so you are not going to want to stray far beyond the city boundaries. A new lithium-ion powered version is now available, which extends the range to around 70 miles. The top speed is just over 50 mph.
They retail at around £7,000 in the UK and $13,000 in the US. They are imported from India and the company (Reva) claims that they have carbon-neutralised production and shipping. This modest little car is quite a success story and is probably the best selling electric car in the world so far.
The Reva G-Wiz may not be suitable for very hilly districts as they can manage upto 20% inclines only (one in five).
The G-Wiz is soon to be superceded by the NXG.
Update 2011:  The G-Wiz has raised safety concerns after one owner was killed in a collision, when the car literally split in two. It has been classed as a "heavy quadricycle" but this has not prevented people from using it as a commuter car. It is perhaps unsuitable for use on busy city roads with fast-moving and heavy traffic. However, The REVA Electric Car Company have drawn attention to the previously unblemished safety record.
Sponsored links
Electric cars 2009:


The Mini electric
BMW are putting out 500 Mini Cooper Electrics in California. They will almost certainly be hard to acquire, despite the $50,000 price tag.
Cynics argue that BMW is just targeting the Californian market where emissions standards are tough. But more likely they are exploring the electric car market and optimising design features before getting seriously involved long term. And there certainly are design issues to grapple with; the Mini electric on sale in California will have the whole of the back seat area taken up by the rather hefty lithium-ion battery!
Electric cars 2009:


The Tango
The Tango is a dream car in the making. It is being designed and built to comply with California's new tight emissions regulations. It has a potentially huge market but unfortunately the company producing it lacks the capital to produce cars at the rate needed to satisfy the public.
What is good about this car? It can do 0 - 60 mph in around 4 seconds - that's right, a stunning acceleration that can have you weaving around slow moving traffic almost like a motor bike. It has an advanced safety design based upon a steel roll cage (just as well, given the acceleration and speed). It takes only 10 minutes to charge up to 80% of the battery's capacity. It can deliver speeds up to 120mph. It can park in small spaces like a motor-bike. It should - if it really takes off - help ease congestion on city roads. Two of these cars can fit side-by-side on an average lane.
What's not to like? Many people will undoubtedly feel that it is just too small and slim, despite the impeccable safety credentials. It does not look too beautiful, either and the interior space is necessarily rather limited. And of course, it's a zero-emissions car (a ZEV).
Sponsored links
Electric cars 2009:


The GEM
Another small entrant to the electric car market is the GEM which is produced by car giant Chrysler. These are sometimes describes as Neighbourhood Electric vehicles or NEVs.
They only do 25 mph and they are lightweight and slightly reminiscent of golf carts (shades of the Prisoner, the cult 60s series which featured slow-moving mini-mokes!) GEM cars are really more akin to off-road vehicles in that they do not have the speed and solidity of a normal car. They are street-legal in the USA for roads posted as 35mph or less. Chrysler claim to have done extensive safety testing on their GEM range. They only have a range of about 30 miles between charges. GEM cars are available in several different countries in Europe and in Canada, as well as the USA.
Electric cars 2009:


The Tesla Roadster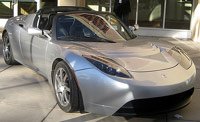 No-one need feel second class in a car like this! The Tesla has enough head-turning good looks to impress anywhere - and if you chance to see one whizzing around LA you might even find you are rubber-necking George Clooney!
This beauty sets the standard for others to aspire to: 0 - 60 in about 4 seconds and a motor described by the company as about the size of a water melon. The necessary battery is somewhat larger but can keep the car going for up to 240 miles between charges.
Picture, right thanks to Jurvetson on Flickr
A charge takes around three hours (more, according to Jeremy Clarkson, see below)- so there are still limitations besides the price. The company wants deposits of 50k for advance orders and there is a fine queue building.
The aluminium body was developed by Lotus, which doubtless explains the classy looks. The lithium-ion battery packs a punch, delivering speeds of up to 130 mph. No one will feel left behind in one of these but getting hold of one may prove difficult. Needless to say, they cost a penny or two.
Are they good? Jeremy Clarkson of Top Gear fame thinks not. Although the acceleration is awesome, the heavy battery makes handling "wonky" (JC) and the two which JC tested failed to work properly. Hmm.
Nevertheless, I've also read rave reviews by happy owners and more affordable models are coming soon from Tesla. If you want to tour the Alps, then clearly a Tesla is not the car to choose - but if you drive within it's limitations it has a fantastic amount to offer. Even Jeremy Clarkson described the acceleration as "electrifying".
Electric cars 2009:




Electric car benefits and perks
All the Nice cars and other electric cars enjoy a number of benefits apart from cheaper motoring costs. In the UK there is no congestion charge and no road tax to pay. There are also some London boroughs which give free residents' parking to electric car owners. Westminster Borough Council also provides some free re-charge points for electric cars.
In the US there are now tax breaks for electric car users. Since a change in the law of October 2008, tax credits of up to $15,000 dollars are available, depending upon the type of plug-in used.
Electric cars 2009:


What's in the pipeline for electric cars?
Suddenly almost every car manufacturer on the planet seems to be making plans for Evs and hybrids as part of their stock car production. Toyota is looking to test a fleet of electric vehicles by the end of 2010. General Motors is gearing up to produce the Volt.
The Fisker Karma should be with us by 2010 - the company is taking orders. This is a beautiful car which should give the Tesla a run for it's money. It is a proper hybrid, so when the battery juice gives out, you can carry on driving. Many motorists will prefer the convenience of a plug-in hybrid over pure electric vehicles.
Of course, if you are in a hurry to get your hands on an electric car in 2009, you can always take a look at Build Your Own Electric Vehicle or even convert your present car: Convert It!. Just don't ask me for advice as to how to do it!
If all this has given you cold feet about electric cars 2009 style - just check out my page Increasing Fuel Economy for Your Family Car. At least you can squeeze a few more mpg out of your current ride!

Solar electric cars 2009? - not quite there yet... a solar car undergoing tests. Picture thanks to Beezum on Flickr
*****
Electric Cars 2009 - top of page
Car + Truck  - Transport and Fuel 

Greenfootsteps Home - for more easy green living ideas
Electric Cars 2009,
Copyright Greenfootsteps.com 2009