Evening Primrose Uses and Benefits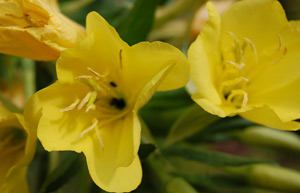 Evening Primrose Uses – What are the benefits of evening primrose oil?
Evening Primrose acquired its name because of the bright yellow flowers that open up in the evening.
The valuable oil comes from the seeds which are extracted from the plant Oenothera biennis, which belongs to the same family group as Willowherbs and can be found in North America, Europe and Asia. The flower has a life cycle of 2 years and within the second year the seeds are harvested and turned into oil.
Picture: Evening primrose flowers
Here below are some details of evening primrose uses, evening primrose benefits and the nutritional profile of evening primrose oil. There are also some important contraindications for epo use.
This guest article on Evening Primrose uses is from Nutritionist Resource.
The properties of evening primrose oil
The oil of evening primrose (EPO) is taken from the seeds and the chemical Hexane* is used to turn it into a medicine. The seeds on their own have up to 25% essential fatty acids; Linoleic Acid and Gamma Linolenic. These both belong to the omega -6 family and the body needs omega -6 and omega -3 to function healthily.
(*Organic evening primrose oil is often cold-pressed to extract the oil - you can buy it here at Amazon. It is certainly a healthier option than chemically extracted EPO. As mentioned above, the chemicals involved include hexane, a chemical that can be toxic and certainly has negative environmental impacts. - Ed)
Omega -3 can be found in your dietary requirements; these consist of oily fish such as fresh water fish, mackerel and trout, plant extracts such as flax seed and walnuts and in your normal daily vitamins. The body is very clever and uses the Linoleic Acid to help make Gamma Linolenic Acid (GLA)
GLA in the body is used to produce hormone-like compounds called prostaglandins. These hormone-like compounds play a massive role in keeping the systems in our bodies functioning normally and the molecules are used in the regulation of inflammation, pain, blood pressure, fluid balance and blood clotting.
The benefits of evening primrose oil
 -  and its uses
Premenstrual syndrome (PMS)
Evening primrose is often prescribed for premenstrual syndrome (PMS) and has been shown to reduce the swelling in the abdomen and soothe breast discomfort. It can calm irritability and help relieve the  depression that some women get during their monthly cycle by stabilizing hormone levels.
It is seen as a women's supplement and although it is taken by some menopausal women there are no studies to show that it helps with hot flushes.
Eczema
Taking this supplement can help reduce inflammation and calm itching and crusting of the skin. It can also relieve edema (fluid and swelling) and redness on the surface area.
It can be taken by children and adults but is always advisable to speak to your doctor before taking EPO.
Cholesterol and blood pressure
Taking EPO can help to reduce high cholesterol as having more essential fatty acids in your body can help lower your triglyceride levels. Evening primrose oil has a high amount of essential fatty acids and this can help with lowering your cholesterol. (It is always advisable to speak to your doctor before taking EPO supplements as they may interfere with other prescribed medication.)
For high blood pressure it can take up to a month for results to be seen.
Alcoholism
Taking Primrose oil can make withdrawal systems easier to deal with and reduce post-drinking depression. It can help improve the liver function, memory and motor co-ordination.
Immune system benefits of evening primrose
Low levels of essential fatty acids can cause the immune system to stop the action of interferons.
Interferons allow the body to communicate between the cells to alert the protective defences of the immune system. The body's cells are able to communicate and thus fight off pathogens (bacteria and viruses) and even combat tumours. In other words, the immune system is stimulated and fortified so that infections and diseases cannot get a hold.
So by taking Primrose oil you are increasing your intake of essential fatty acids and protecting your immune system.
The above evening primrose uses are some of the commonest ones. There are other complaints which may be improved by evening primrose oil.
Here is a brief summary of evening primrose benefits.
A summary of evening primrose oil uses and benefits
Primrose oil can provide the body with important fatty acids and can prevent or help combat many common problems. There is also research to suggest that the oil can help with obesity, benign breast disease and childhood hyperactivity.
Always remember to take a balance of omega -6 and omega -3 and the best way to do this is to take a full spectrum vitamin supplement that not only provides essential fatty acids but other crucial vitamins, such as vitamin C.* (See note below)
Evening primrose oil can be taken in capsule form and is available for vegetarians also.
A safety note: 
 - contraindications and side effects
Primrose oil is not suitable for pregnant women in early trimesters.
Please consult your doctor before taking primrose capsules: this is only a guide.
Please be aware that there have been reports of side effects but these are very rare and mild; they consist of sickness, headaches, loose stools and stomach ache. Generally, if you have loose stools the dosage is too high.
Alternatively you can contact a nutritionist and find out what you can add to your diet to improve the amount of vitamins and minerals you take in and create a healthy, balanced eating plan along with an exercise program.
Nutritionist Resource is a directory of qualified and registered nutritionists and it's possible to search your local area to find one near you. There is also information on the areas a nutritionist can help with.
*****
*Note: Please note that this article represents the opinions and knowledge of the author. Other ways to access suitable fatty acids may be available without taking supplements.
Some books on EPO benefits
Evening primrose oil is a great health aid, used as a supplement to (rather than as a substitute for) proper nutrition.
Several good books on EPO are available from Amazon: Secrets of Evening Primrose Oil (Our Secrets Of...) is a fairly comprehensive round up - within the limits of a small book - of EPO benefits for health and the role of prostaglandins and fatty acids in health.
Other books include Evening Primrose Oil by Judy Graham which has more detail on evening primrose uses in helping and curing various common ailments. It includes rather more technical data than Monica Reinagel's work mentioned above and shown right.
Know Your Fats : The Complete Primer for Understanding the Nutrition of Fats, Oils and Cholesterol is an excellent exploration of the role and benefits of the various types of fats by an expert in the field (Mary G. Enig). Fortunately, it is also very readable and dispels a lot of myths and misunderstandings about fats in our diet.
*****
Evening Primrose Uses - top of page
Healthy Living - Living a Healthy Lifestyle 

Greenfootsteps Home - for more easy green living ideas
Evening Primrose Uses, copyright nutritionist-resource.org.uk 2011
Please do not copy without permission.