Green Schools Initiatives

The Green Cup Challenge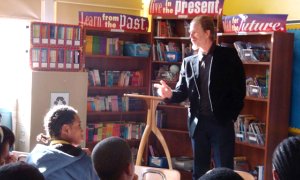 Here's a guest article on a green schools initiative in New York, which empowers children who have seen the link between schools and carbon emissions to act on their knowledge.
This article was written in 2010 but many of the issues mentioned are still ongoing; the Green Cup Challenge is now inspiring children and saving electricity in more than 300 schools around the USA.
Picture: Actor Matthew Modine talking about energy savings with kids at M.S. 442, the New Horizons Middle School in Brooklyn. NYC officials announced the city's participation in the challenge at this school.
Picture thanks to J. Freeman
Article thanks to Emily "Alix" Fano.
Children and climate change
NEW YORK, NY – Copenhagen failed to deliver a binding climate treaty, and a fight is looming in the US Senate over a clean energy bill. But some are bypassing talk and taking matters into their own hands. Child-led climate action initiatives are springing up everywhere, including in schools.
PS 166, a public elementary school on New York's Upper West Side, is one of 128 schools in 21 states enrolled in the 4th annual Green Cup Challenge, an inter-school energy reduction competition, sponsored by the non-profit Green Schools Alliance.
The Green Cup Challenge, which takes place in New York from January 15th through February 12th, during peak (winter) energy use, asks participating schools to measure and reduce their electricity use with a view to combating global warming. Top performing schools have achieved 18% energy reductions, saving thousands of dollars in utility costs and reducing greenhouse gas emissions.
Schools and carbon emissions
Nationally, that has added up. In 2009, 120 schools in 24 states reduced their aggregate carbon emissions by 2.5 million pounds: the equivalent of taking 220 cars off the road for one year.
With some 132,600 schools in the U.S., one can quickly envision the positive impact that a national school-based energy conservation movement could have.
There are now (January 2010) close to 200 schools in 22 states enrolled in the Challenge (53 of those are in New York City, and 4 in Manhattan specifically).
Sponsored links
Children and energy conservation
The Challenge teaches children about the importance of energy conservation and the role that individuals can play to build a sustainable future.
At PS 166, children will work with staff to try and bring energy use down by 10%. PS 166's Gothic Revival building covers 87,680 square feet and uses electricity and natural gas. The school's energy bills have been as high as $26,000 per month, so saving energy will also save the school money.
Signs have been posted reminding everyone to "turn off lights," and "power down computers." A school-wide assembly kicked off the Challenge on Wednesday, January 13th.
Each classroom will have two "Climate Captains" who will ensure that lights are turned off at lunch and recess, windows are closed, and unused appliances and chargers are unplugged. And a Green Team comprised of 5th grade students and staff will make weekly school-wide checks to see how everyone is doing.
A large thermostat visual will let the community know whether the meter readings are going down. School custodial staff, who "power down" the building, maintain the boilers and turn off lights at night, will be integral to the success of the Challenge.
Conservation habits to help the planet
Through the Green Cup Challenge, children will learn new conservation habits that they can take home; they will watch the numbers on the building's meters go down and know that they helped to achieve that; and they will come to understand that together, kids in schools can really make a positive difference for the planet.
***
Emily "Alix" Fano is a published author, a mother, and environmental activist living in New York City. She is co-ordinating the Green Cup Challenge at her children's public elementary school, PS 166.

*
If anyone else knows of a successful green schools initiative, please use the contact form to send us details. Thank you!
Green schools in the UK
In the UK there are many schools which now grow some of their own foods and some have wildlife and conservation areas in the school grounds. There are also some schools which are setting up as "eco-schools".
I know of two secondary schools locally which are planting trees in the grounds for fruit and for wildlife and one which is starting a bee colony.
It's early days for the green schools movement but there are a good many positive signs. Organisations like the RSPB have been working in schools for years but now the movement is gathering pace and becoming more widespread.
Sponsored links
Green Schools Initiatives - TOP
Natural Parenting 

Greenfootsteps Home - for more easy green living ideas