Hybrid Car Disadvantages You May Want to Consider
Hybrid car disadvantages?
What about the disadvantages of hybrid cars?
 Are they worth considering when the advantages are so clear?
If you are thinking of buying a hybrid car it's as well to consider some of the disadvantages as well as the benefits.
There are several disadvantages to even the newest hybrid cars.
This page takes a look at some of them.
What price a cleaner environment?
Firstly, and most obviously, there's the price.
Modern hybrids do not come cheap - which effectively puts them out of reach for many people for the time being. The cheapest (new) Toyota Prius comes in at over 20,000 dollars in the US, over £16,000 in the UK (2007 prices).
Doubtless as more people see the advantages and buy into the technology the prices will tumble. You stand to recoup some - or even all - of your expenditure in fuel savings, however.
Of course you can buy second-hand but some of the older models are not as environmentally-friendly and certainly not as user-friendly.
Some of them (the Prius, again, the Honda Civic and Nissan's Altima) get the SmartWay Elite badge from being "superior environmental performers" on greenhouse gas emissions and air pollution gases.
Hybrid car disadvantages:
Assault and battery?
Some hybrids (the Prius, for example) use metal hydride batteries which could, in theory kill a person if they were exposed during crash conditions. They use very high voltages. Toyota claim to have minimised the risks.
Another problem with the battery of the older Prius models is that they needs re-charging at least every two weeks - so if you want long vacations you have to engage someone as a car sitter!
You may also need a new battery every 150k to 200k miles - but this is hardly worse than the average car battery! The Prius battery is supposed to last a lifetime but again, this depends on many factors such as use and abuse. They are certainly expensive to replace.
Chill factor
Some batteries have also been criticised for failing to deliver in cold weather. This means that if you live in a cold part of the world, you may find that a hybrid does not offer much in terms of fuel savings because you'll mainly be running on gas.
Hybrid car batteries are heavy which adds to the over-all weight of the cars, which may be a disadvantage to some people.
The weight of the battery has also led to criticisms of the handling qualities of some hybrid cars.
Hybrid car disadvantages:
Pollution from the car factories
Yes, of course hybrids leave a carbon footprint from their manufacture - just as other vehicles do. In some ways the pollution is greater because of the extra components needed for a hybrid - the twin drive-trains, for example.
There have been studies (MIT, Carnegie Mellon University) which showed that the pollution and energy consumption from manufacture is greater than for conventional cars, as is the cost of disposal.
However the same studies showed that these costs were compensated for by decreased energy consumption during a lifetime of use.
Several consumer reports have backed this claim with evidence that hybrids do generally more than cover the cost of their premium price tags with fuel savings.

Hybrid car disadvantages:
Softly softly!
There have been complaints that hybrids running on battery power alone are just too quiet.

That's not something you'd think would be a source of complaint in our noisy world - until you stop to consider the needs of visually-impaired people. There have been cases of people who have relied on their ears and have been nearly run over.

Tests involving blind pedestrians showed that they were often completely unable to hear the approach of a hybrid car in urban conditions. This is a criticism of electric cars, too.

Some organisations for the blind have understandably been calling for a technical fix to make hybrids noisier. This is also a safety issue for parents, too. These added sound effects are now being incorporated in some cars.

:
Hybrid car disadvantages and servicing
Some of the hybrids - the Prius again - will normally need to be serviced by the manufacturer as most garages simply don't have the equipment necessary to do all the necessary routine service jobs. This could prove expensive.
As hybrid cars become more common it would seem likely that more garages will be equipped to do maintenance and repair of hybrids.
Picture: 2012 Toyota Prius
Replacement parts
Some replacement parts carry a hefty price tag. A new battery, for example, could set you back several thousand dollars. The battery of the Prius is completely recyclable and Toyota provide a complete recycling service.
The batteries are also designed to last for the car's lifetime, so there should rarely be a need for a replacement.
Hybrid car disadvantages:
Car enthusiasts
Hybrids have been roundly condemned by many car enthusiasts for their styling (seen as ugly - one comment compared the new Prius to a doorstop!) and their handling (unresponsive, slow).
Jeremy Clarkson of Top Gear, the British car programme, likes to give them a good kicking from time to time. But his priorities are generally speed and performance above most other considerations.
Here's what hybrid enthusiasts think
There are many people out there who will leap to the defence of the best hybrids. The Prius, for example has its enthusiasts. It delivers great mileage, especially in urban and suburban conditions, has effective traction control and ABS. It also delivers a pretty respectable acceleration when required. The regenerative brakes effectively recharge the battery - it loves hills. It can drive on just the battery power alone in suburban conditions and - its chief environmental virtue - it is a SULEV (i.e. a super ultra low emission vehicle). This is what it was designed for and many of its fans believe Toyota succeeded brilliantly. It won a prestigious award in 2004 for engine quality.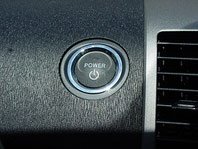 Picture by June Traveler: - the Prius' power button. Not so easy to hot-wire!
Other great features that owners have praised include generous storage space and good anti-theft qualities. The Prius is hard to steal because the computer on board will not recognise any other key. Of course you can't hot-wire a hybrid, either!
The Prius also comes up well for reliability despite all the (relatively) new technology under the bonnet.
No doubt about it, hybrid cars represent a huge step forward toward a greener motoring future. The various hybrid car disadvantages are sure to be surmounted as the need for car efficiency and low emissions becomes paramount.
For more on hybrid car advantages please see: Hybrid Car Advantages.
Many hybrids score well on the US Environmental Protection Agency's Green Vehicle Guide. If you are thinking of buying, this is a good place to check out all the available models and make an informed choice.
Although there are a few hybrid car disadvantages to consider, not least the price, many people feel that they deliver real benefits and are well worth the investment.



TOP

Return from Hybrid Car Disadvantages back to Green Car - Transport and Fuel

Greenfootsteps Home - for more easy green living ideas