Sofa and Loveseat Slipcovers Can Be Green!
Slipcovers can revitalise furniture such as sofas and chairs



Using sofa and loveseat slipcovers can give your furniture a new lease of life. Best of all, slipcovers can now be found in top quality organic cotton.
Here is a guest article by guest writer Caroline Smith of www.GetSlipcovers.com about the benefits of sofa and loveseat slipcovers.
Advertorial content
Please note some readers may consider this article as advertorial.
No money was paid for the article but the interests of the writer may be served by some aspects of the article, for example, by outgoing links.
Give your home a new look for less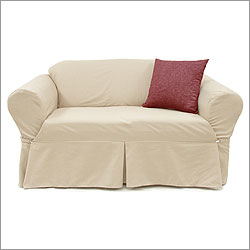 Many people mistakenly think that changing to a greener way of life will cost them more money. Especially in the current economic climate, when people are trying to reduce their spending, many people shy away from buying eco-friendly products because they are perceived as being more expensive.
However, as a big part of being green is about reusing or recycling what you already have, often the most environmentally-friendly option is the cheapest one.
Take sofa covers, for instance. For a start, they are considerably cheaper than a new sofa. They also enable you to give your old sofa a completely new look. By re-covering an old sofa you can extend its useful life, prevent it ending up in landfill and avoid the huge carbon footprint associated with buying brand new furniture.
Sofa covers are designed to be slipped over the top of existing upholstery to give a fitted appearance. They are ideal for transforming furniture with old-fashioned, worn or unattractive upholstery that you're embarrassed to have on show.
Slipcovers aid interior design
You can also use a sofa cover as part of your interior design scheme to alter the colour of good quality furniture.
Many people use furniture covers to give their homes a seasonal makeover, much like some people change their curtains each summer and winter. They are also useful if you decorate or move house and need to coordinate your furniture with your new colour scheme.
Practical slipcovers
Although they are mainly used for aesthetic reasons by people looking for a cheap and green way to give their room a makeover, sofa covers have a practical use too.
They can be used to protect furniture that's in good condition from wear and tear. Because they can be machine-washed, they are much easier to keep clean than upholstery. They are easy to remove and will stand up to regular washing without losing their colour or shape, much like duvet covers.
For this reason, sofa and loveseat slipcovers and chair covers are popular with pet owners.
Cats and dogs often make a beeline for the most comfortable seat in the house. They invariably shed hair and leave muddy paw marks wherever they've been and it's much less trouble to throw a cover in the wash than to clean upholstery by hand in your efforts to keep your home clean and fresh. Households with young children can benefit from using covers on their sofas and armchairs too.
By fitting new covers you can give old furniture a new lease of life. I don't like to think how many sofas are thrown away every year just because the owners don't like the colour or the upholstery is a bit tatty. By using sofa covers, people could save themselves a lot of money and help the planet at the same time. 
Organic cotton slipcovers
Ready-made sofa covers are usually made from cotton or polyester, both of which are durable fabrics that should stand up to a lot of use. Being natural rather than synthetically produced, cotton is a more environmentally-friendly choice than polyester. If the cotton is organically-grown, this is obviously the greenest option. However, covers made from organic cotton are not yet widely available. The only organic sofa covers I've come across are from Sure Fit in the US. I would imagine that this is a growing market, and hope as consumers become more aware of environmental issues, eco-friendly furniture covers will become more common.
I think re-covering old furniture is a great way to improve the look and feel of your home without blowing your budget or forgetting about your green principles. By prolonging the life of something that would otherwise be destined for landfill, you can help the environment as well as save money. It's not just sofas and armchairs that can be covered. There are furniture covers for recliner chairs, Ottomans and even dining room chairs. So, if your furniture is starting to look a little tired, or you simply fancy a change, why not consider re-covering it?
***
Caroline Smith runs Get Slipcovers, where you can find ideas for decorating with all sorts of furniture covers, as well as useful tips for getting the perfect fit. She believes being green and saving money go hand in hand and loves low cost, eco-friendly ideas for improving her home.
*****
Other pages related to sofa and loveseat slipcovers or home furnishing which may interest you:
Giving Used Bar Stools a Green Makeover
Best Thermal Window Treatments for Your Home
**
Sponsored links
Sofa and Loveseat Slipcovers Can Be Green - TOP
Easy Home Improvement Projects 

Greenfootsteps Home - for more easy green living ideas
Sofa and Loveseat Slipcovers Can Be Green! 
Copyright Caroline Smith
Please do not copy without permission. This site is protected by Copyscape