What is the Best Hair Conditioner for Healthy Hair?



And how do hair conditioners affect our environment?
What is the best hair conditioner to use? What do they actually do?
Are any of them harmful to us or the environment? Can you make a really good natural hair conditioner for you?
And do we even really need conditioners?
This article gives you a brief round up of the facts so that you can judge for yourself how green many of these products are. You can also learn what to look out in products for the best results for your hair, your health, and the environment. The best hair conditioner for you may even be something you can make or find at home.
Organic hair conditioner does exist and is worth seeking out.
Click here (or scroll down) for books on natural hair care and the best hair conditioners available.
What is conditioner?
Hair conditioners came into vogue as commercial preparations in the 1950s after Jheri Redding introduced the Crème Rinse Conditioner.
He realised that hair was largely made of protein and therefore would be benefited by nourishment with proteins and vitamins.
Before that people would use a variety of oils and creams after drying to keep their hair under control.
Many modern conditioners contain proteins, as well as a huge range of other chemicals.
Best hair conditioner:
Modern hair conditioners
Conditioners are now made from a great variety of chemicals but they commonly include:
Acidifiers - which make the hair more acid and remove grease. These help leave your hair looking shiny and clean. The surface of hair is actually quite scaly when viewed under a microscope. Acidifiers help the surface to be smoother and less scaly so that light reflects better. Citric acid is an acidifier which is often used.
Antistatic agents help to reduce static electricity in the hair, making it more manageable.
Essential fatty acids (EFAs) found in natural oils can help dry and damaged hair to become more

soft

and pliable. The scalp's natural oil is called sebum. EFAs are quite like natural sebum (which itself contains EFAs). When you wash your hair you remove a lot of the natural sebum, so it makes sense to replace it.
Fragrances are often synthetic. Some are suspected of causing

health problems

in some individuals.
Glossers and light-reflecting chemicals are used to bind to the hair surface. These are usually polymers or silicones such as dimethicone or cyclomethicone.
Hydrolised proteins give the hair shaft additional strength.
Lubricants such as fatty alcohols, panthenol and dimethicone, help the hair to remain tangle free.
Moisturisers As the name suggests, these help keep moisture in just as moisturisers do in skin cream. Humectants perform the same role.
Polymers may also be included which bond with hair cells for additional strength. They can have several functions - see below.
Preservatives are needed for some of the ingredients, particularly organic ones, which otherwise may degrade on exposure to air.
Sequestrants help the conditioner to work well in hard water.
Surfactants Hair conditioners usually contain cationic surfactants, which don't wash out completely. They strongly bind to the keratin - the protein from which hair is made. The surfactant molecules act as an artificial surface, repelling moisture from the hair.
Thermal protectors such as heat-absorbing polymers, shield the hair against excessive heat from blow-drying or curling irons.
What about the environment?
Which are the best hair conditioners for the environment? Many body care products we use have consequences for the wider environment.
Sewage works are having to change their practices to cope with the many environmental toxins now in use. Recent research has shown that actions taken at sewage facilities to reduce nutrients, such as nitrogen and phosphorus, are also removing a good portion of the chemicals used in personal care products (PPCPs).
Basically, much longer processes are having to be used to eliminate the biological hazards lurking in our waste water. This costs us all money, of course and involves significant energy use, so there is a carbon cost.
Even after cleaning at the sewage works, some chemicals can persist and present a threat to the wider environment.
Fragrances are a particular concern, especially musk ketone and galaxolide. Some hair relaxants and conditioners may contain phenol which is a bio-accumulator i.e. it accumulates in organisms in the environment. Phenol is also a neurotoxin and may be carcinogenic (cancer causing).
To really know what is lurking in your hair care products you need to read the labels carefully, note down chemical names and then look them up at SkinDeep. See below for more details.
First here's a look at some natural alternatives - we do not absolutely have to use dubious chemicals, after all! These alternatives are generally very safe and consist of easy-to-obtain natural products.

Best hair conditioner:


What natural hair conditioners are there?



Cider vinegar provides a basis for a natural hair conditioner which has no bad environmental effects. However, I would not recommend it.
To use it put one or two tablespoonfuls into a pint or more of water. This helps the acidity of hair, leaving it shiny and silky. Be aware that this may sting if it gets into your eyes! For this reason, cider vinegar is not one of the best hair conditioners, in my view.
For my money, tea and neutral henna are better alternatives.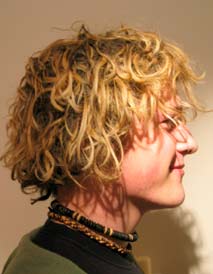 Here are some of the best hair conditioners from the kitchen and garden. The best hair conditioner for your hair may be something cheap and readily available.
Some people swear by eggs - which are protein and oil-rich. Natural hair conditioners and homemade hair conditioners made from things you might already have, are generally safe and inexpensive; just follow the simple rule of only using things you could eat! (Maybe natural henna is one exception to this.)
Treatment with oils helps the softness and manageability of hair. There are a variety of different oils which could be used. Olive oil is a good place to start.
Olive oil can be rubbed into the scalp before washing. Use a tablespoonful or so of oil well massaged into the scalp. for a better result, wrap your head in a warm towel for 20 minutes before washing the oil out. You may need to use a little more shampoo than normal. This process leaves your hair feeling silky and soft and surprisingly un-greasy. For fuller instructions see Olive Oil Hair Treatment for Softer Hair.
Rosemary oil is also useful. Add one or two drops of rosemary oil to your final rinse. Alternatively, infuse rosemary leaves in boiling water for 10 or 15 minutes. Add a little of this to your final rinse.
Plenty of other oils may be worth trying for their beneficial effects. Carrot oil, for example, is used for skin care, so will benefit the scalp. Safflower oil is known for its richness in Omega 3s and other nutrients. Look for quality,

organic oils

where possible, for the very best hair conditioners for your hair and health.
Lemon Balm (Melissa) can also be prepared as an infusion to add to rinse water. This is a very easy herb to grow.
Tea is another slightly acid hair rinse which has a conditioning effect.
Henna powder is also good for the condition of hair. Buy the kind which has had the natural colourant removed if you don't want to end up with red hair! It is a safe and gentle product which has been used as a natural hair conditioner for millennia. (I wouldn't recommend eating it though!)
Best hair conditioner:


Best advice for using bought hair conditioner?
There are now a good many natural hair conditioning products on the market. Once again, it pays to read the label carefully and check anything you are doubtful about at SkinDeep.
For my money, it's best to buy a simple conditioner with mainly natural and organic ingredients.
Use it sparingly and recycle the pack carefully. It can be more cost effective to buy a large pack and decant some into smaller bottles for use. People generally use products more sparingly when they come in small quantities!
Avoid products with artificial fragrances and parabens especially as these are some of the more damaging chemicals both for the environment and for your health. It is surprising how many "natural" products contain some of these! To be fair, organic ingredients may deteriorate without a preservative, so there is some rationale behind the use of parabens in particular. Many natural brands, such as "Faith in Nature" make hair conditioner without using parabens.
Buy products in clear bottles. It's easier to see that your finished bottles are thoroughly empty and clear of product residues before you toss them into the re-cycling bin. Many of the better, "green" brands come in clear bottles, presumably because they've thought of this!
Sponsored links
Earthly Bodies & Heavenly Hair: Natural and Healthy Personal Care for Every Body A great book about using herbs and natural ingredients to make your own hair and body care preparations. Plenty of recipes and chock full of natural health and beauty tips.
Naturally Healthy Hair: Herbal Treatments and Daily Care for Fabulous Hair This book focuses on home treatments for problem hair and nutritional approaches to hair health. There are deailed instructions for how to wash your hair effectively and avoid split ends. It is concise and easy to follow and it also includes a hair style guide!
No Lye: The African American Woman's Guide To Natural Hair Care A natural approach for African hair. An all-round reference book for braids, extensions, locked styles and natural hair care for all ages, men and boys too. This book can help you avoid chemicals and have the hair you want.
Hair Rules!: The Ultimate Hair-Care Guide for Women with Kinky, Curly, or Wavy Hair Get the hair you want without compromising your hair's health.
About SkinDeep
SkinDeep is a huge database of cosmetics, ingredients and information about safety and environmental effects. It is always worth checking any new purchase for product information - preferably before you buy, of course! It is part of the Environmental Working Group. Small manufacturers may not be included but most big ones are. SkinDeep
*****
Top of page - Best Hair Conditioner

Back to Natural Body Care

Greenfootsteps Home Page - for more easy green living