Green Christmas Present Ideas
Here are some green Christmas present ideas for anyone interested in green living and eco-friendly consumption.
I always have problems with finding good Christmas present ideas for family and friends. It's a very personal choice and sometimes we have to just try to buy something that we know the person wants, whether it's something we personally believe to be useless or hideous – no matter!
It's kind of nice to try to give "green" Christmas gifts, where possible but there's little sense in buying stuff just because it's sustainably produced. Clearly, we have to try to satisfy our friends and relations desires to some extent.
I'm just going to give a few thoughts on good green gifts – just in case they help someone out with a tricky present choice. Sometimes it's hard to think outside the box. I know how tempting it can be just to opt for a book or a CD – nice and safe – and at least they can always exchange if they don't like it!
This page on Christmas present ideas is mainly about eco-friendly presents for adults. There will be a separate page on Christmas present ideas for children.
Sponsored links
Buy a subscription to a wildlife or conservation organization
Many organisations such as the RSPB in Britain or The Nature Conservancy in the USA have membership which are open to the public. By becoming a member of the RSPB, for example, you not only receive entry into nature reserves but you also receive a magazine packed with information and advice. And of course, you are helping to sustain some great environmental work.
Most membership organisations will also offer some kind of events programme too. This can be a wonderful gift for someone who has a developing interest in birds or wildlife.
Some charities such as the WWF (World Wide Fund for Nature) also produce a magazine and offer green goods for sale through their website or a published catalogue. There's nothing to stop you giving a subscription to such an organization in the name of a friend.
Not all such environmental organsisations are beyond criticism, of course; the Nature Conservancy of the USA has been slated for being too close to business interests. And some people may find the politics of organisations such as Greenpeace too radical for comfort. So take a good look at what you are buying for your friend or family member, as your money will be wasted if they have a philosophical or political objection to some of the work the targeted organization is engaged in!
This is a green Christmas present idea which keeps on giving! I always keep and re-read my old RSPB magazines and in the height of summer we appreciated being able to visit some great gardens and ancient buildings after we were given a subscription to the National Trust.
Buy a magazine subscription
There are some great magazines out there which have a bearing on green living.
For example, the National Geographic does a wonderful job in raising awareness of the beauty and fragility of the natural world. There are magazines which are dedicated to educating people about organic gardening and permaculture which could appeal to people wanting to grow more of their own veg and fruit.
The British magazine comes out four times a year and makes a relatively inexpensive present. It's packed with interesting articles and also features green gifts and shopping opportunities. The Smallholder magazine, likewise has some great articles if you (or your friends) are interested in growing more food at home.
Other hobby magazines may help people to live more sustainably. Many hobbies and crafts lend themselves to recycling activities. For example patchwork and quilting are crafts which use cut up materials. Decoupage is a simple but effective craft based on re-used paper. Most crafts have magazines and clubs which support members interests. A magazine subscription can be a gift for anyone nourishing an interest in such crafts.
Other Christmas gift ideas that might be worth considering are magazines to do with sports and leisure activities - ones which could be classed as relatively green, of course, such as cycling, walking or swimming.
Sponsored links
Household and personal presents
Many of the types of organization mentioned above have fundraising catalogues from which you can select presents. The RSPB is very good for bird feeders and other bird-related kit. They also sell beautiful decorative items featuring birds. The World Wildlife Fund has some great soft toys and does a colourful line of sweaters and tops.
Other household and personal presents could have a green slant. For example, why not buy something made of wood? Wooden artefacts are often beautiful and durable. Always check that the product you select is made from sustainably sourced wood. The FSC logo should preferably be visible. This is a logo awarded by the Forest Stewardship Council to denote sustainably sourced wood.
Toys, puzzles and items of furniture are some examples of wooden presents which can be highly desirable. Parlour games such as ninepins or bar billiards can be a lot of fun and last for generations.
Fair Trade items are often beautiful and made in a sustainable way and they help support craftspeople and farmers in developing countries.
Wooden bowls and salad tongs are nearly always beautiful. Local craft markets can be a good source of high quality hand-crafted Christmas presents made locally.
Recycled stuff for green Christmas presents
There is a huge and growing market for recycled fancy goods. Glass bottles get turned into tumblers or even pretty mobiles; old tyres become mouse mats; clothes can be recycled to make beautiful patchwork bags or quilts. The list is endless.
Etsy is a good place to search for fine craft items that are made by individual artisans. There are also lots of small sites which specialise in such products.
Sponsored links
Go organic – and local!
An organic hamper of food will be welcome almost anywhere. Smaller luxury items are very well-received as visiting gifts. Handmade organic chocolates, luxury biscuit selections, organic spirits such as gin or vodka - the list of possibilities is enormous.
Check out your local farmers' market or farm shop for ideas. Our local farm shop now stocks the most amazing selection of local produce, from soaps and body care products to mead and wines, gingerbread and barley-sugar twists, all beautifully presented. Not everything is organic but most of it is locally produced.
Christmas markets are becoming popular in Britain. Birmingham now hosts a German market every year. This could be a good way to find something a little different without having to get into the airport queues!
Make it yourself green Christmas present ideas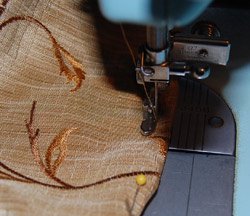 Picture: Homemade cushions are fun and easy to make
Hand-made items such as knitwear, crochet and homemade clothing might be popular in some families. I sometimes make homemade cushions or cushion covers for friends and relations.
Homemade jams and preserves are a good standby for giving as casual gifts when paying visits to people at Christmas time. A jar of rumtopf or a bottle of sloe gin are both very acceptable presents for most people who do not dislike alcohol. Home made biscuits can be presented in a recycled jar or tin. Add a ribbon or label to personalise your gift.
Please see the right side panel near the top for more Greenfootsteps pages that might help.
Advertisements
Green Christmas Present Ideas - top of page
Frugal Living - Living Well on Less

Greenfootsteps Home - for more easy green living ideas
Green Christmas Present Ideas - Copyright Greenfootsteps.com 2010