How to Make Sloe Gin for Winter Cheer!
Here's how to make sloe gin for a wonderful mid-winter treat!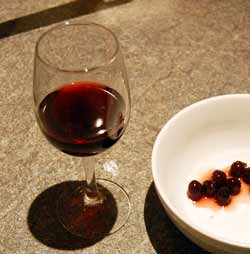 Picture: Sloe gin with left-over sloes - a wonderful winter warmer!
Sloes are the very sharp, acid fruit of the blackthorn bush. They are best picked toward winter when frost have softened the skins. If you want to make sloe gin in time for Christmas you will need to pick your sloes a bit earlier, as about three months is needed for the juices from the sloes to infuse into the gin. Read on below for a way to speed up the process.
Making sloe gin is really easy - and it's a good way to add a whisper of natural goodness to your favourite tipple! However, this is not the kind of drink that you would want to drink frequently - it is too sweet for that. It is excellent as a small tot after a lavish dinner.
I love all those wonderful natural flavours of wild fruit. There's a good chance that they are bursting with nutritional value, too. Pick away from busy road and other sources of contamination.
Here's how to make sloe gin
Ripe sloes are a beautiful cloudy blue, though sometimes the bloom rubs off and reveals a rather darker blue-black shade. Be careful that you have correctly identified the blackthorn plants (Prunus spinosa).
Pick from near the ends of branches to avoid getting scratched by the massive thorns! Pick whole, undamaged fruit.
Wash the sloes and prick them with a clean sharp knife, or a needle. This is so that the gin gets to penetrate into the flesh of the sloes.
Place around 10 ounces (250gm) of sloes into a jar with 5 ounces of sugar. Multiply up the quantities as desired. Cover the fruit and sugar with gin. A good quality, organic gin is ideal.
Keep the jar in a cool dark place. Give the jar a gentle shake from time to time to help the sugar and juices to dissolve in the gin. Or you can gently turn the jar over to really be sure that the sloes and sugar are well mixed.
That's really all there is to making sloe gin - although I'm sure you can dream up plenty of variants and ways to serve it.
Your knowledge of how to make sloe gin can easily be adapted to other fruit. Most plums, raspberries and other soft fruits will do well treated in a similar way. Brandy and vodka are both good alternative liquors to use for preserving fruits with sugar. Such drinks can also make very acceptable Christmas presents - or indeed presents for taking visiting at any time of the year!
Making sloe gin is really easy and the resulting radiant pink liqueur should keep for several years if need be.
For a handy festive present, package some homemade sloe gin in a pretty bottle or recycled jar, add an attractive label and wrap!
How to make sloe gin in time for Christmas
Sloes ripen and mature slowly and are unlikely to ever become sweet. But they are better after a frost or two. The skins are softer. If you want to make sloe gin in time for Christmas, pick your sloes in late September and put them straight into the freezer for a day or two. This will help them to soften up some. Then proceed as described above.
Alternatively, pick your sloes in November and just be prepared to wait the full year!
See Homemade Christmas presents for more festive ideas for making and giving this season.
Other pages related to making sloe gin and other fruit products, with or without alcohol, which may interest you:
Elderberry Recipes to See You Through a Healthy Winter
An Easy Crabapple Jelly Recipe
*****
Sponsored links
How to Make Sloe Gin - top of page
l
Green Recipebook - Organic Healthy Recipes
 l

Greenfootsteps Home - for more easy green living ideas
How to Make Sloe Gin
Copyright Greenfootsteps.com 2009