How to Make Pancakes
Here's a page about how to make pancakes, their origins and some simple, nutritious pancake recipes.
You don't need special equipment for making pancakes at home. For best results, just add kids! But seriously, pancakes are one of the most versatile and easy-to-make foods imaginable and with a little imagination they can be very nutritious, too. In the UK we tend to think of them as a dessert dish or as a sweet breakfast but they also make a very fine base for a host of savoury foods.
Before we get to how to make pancakes here's a very potted history of pancakes and pancake making.
Click here if you are here to learn how to make pancakes and just want to get straight to the pancake recipes
Pancakes around the world!
Pancakes are made the world over. Almost every country has its distinctive recipe.
In Britain pancakes are eaten on Shrove Tuesday, a Christian tradition that goes back at least to the fifteenth century, and probably earlier. Pancakes were eaten as a way of using up spare fatty ingredients before Lent. Pancake races are all part of the tradition with many towns having their own festivities which continue today.
Pancake origins and varieties
I recently heard a radio discussion on their origins. A well known pancake chef claimed they were around from at least as far back as the days of ancient Egypt! Certainly, the typical ingredients are nothing unusual: flour, eggs and milk.
You can learn how to make pancakes, too, which rely upon ingredients only of vegetable origin. In India they cook the most savoury pancakes made from rice flour and gram flour. "Masala dosa" is one of the tastiest vegan snack foods and deserves to be more widely known. It is properly made with the flour from black lentils, though you can make something similar with gram flour. If you are vegan, making pancakes this way is very satisfying.
As most people know, we need to reduce the amount of meat and dairy in our diets - for the sake of our health and for the health of the planet. Learn how to make these vegan pancakes for another way of avoiding meat and dairy foods. No-one can feel short-changed when eating vegan pancakes!
In Scotland pancakes often take the form of "drop scones". These slightly sweet, thick pancakes are brilliant because they can be stored for a few days in a tin. They are then eaten cold with butter and jam or honey, much like a scone. Learn how to make pancakes like this below.
French crepes are also delicious but you probably need a decent griddle to have much success with them, as the recipe depends upon a thin smear of batter being spread across a very flat surface. I've not learned how to make pancakes such as crepes just yet but there are plenty of other pancake recipes to try which are quite easy and use only utensils found in most kitchens.
In Brittany they eat a savoury pancake made from buckwheat flour. They are called galettes and are delicious and quite filling.
You can use a whole variety of different cereals when making pancakes - just experiment and you are sure to find something good. I like to use oat flour and I'm a big fan of homemade masala dosa, made with rice and gram flour.
Rye flour mixed with wheat flour makes a great pancake - tasty and satisfying but not too heavy.
What type of flour do you use for making pancakes?
I tend to use plain flour. You can use self-raising flour; it just gives a more inflated result, as you might expect. I think the flavour of pancakes made with plain flour is better.
Bread flour is a bit too elastic owing to the higher gluten content. It will make a respectable pancake but tends to be a bit heavier.
Here's how to make pancakes. First, the English kind. Below the photos is a recipe for Scottish drop scones
An English pancake recipe
Ingredients
Flour,
1 free range egg and about half a pint of milk.
You can use milk made from dried milk granules. It does not noticeably affect the resulting pancakes. You can also use up milk which is slightly on the turn. The sour taste disappears when the mix is cooked. Don't compromise on the egg. See this page on the best eggs
Method
Put about 100gm of flour (a couple of heaped dessertspoonfuls) into a large bowl.
Put a well in the centre with a spoon. Drop the egg into the well. Use a whisk to stir the egg into the flour, taking more flour from the "walls" of the well as you go. As this starts to stiffen with flour, start adding the milk, a little at a time. Keep using the whisk to turn the mixture and to draw more flour into the mix. Carry on until all the flour is mixed in and the mixture becomes a thin batter.
If you make the mix this way, you should not have any problems with lumps forming in the batter. A good quality whisk is essential as it helps prevent lumps from forming in the batter.
When you are satisfied with the consistency of the batter, set it aside for half an hour, in the fridge or a cool place. This helps the flour to take up the liquid properly and makes a big difference to the final result; you are far less likely to end up with leathery batter if you make batter this way.
Prepare a frying pan or a heavy skillet. The Scots like to use a griddle (or girdle) which is like a flat frying pan. Get the pan hot over the heat source and then add a little oil (about a large coin-sized amount). Run the oil around the pan until it is hot. Ladle the batter mix into the centre of the pan. About one to two tablespoonfuls is enough. Immediately twist the pan about so that the batter spreads across the face of the pan. Set the pancake down to cook. When the top of the pancake starts to look as though most of the moisture has left it, flip the pancake over and cook the other side for a minute or so.
You can toss the pancake in the air (always fun, especially with kids) or you can flip it with a spatula or fish-slice. The second side only takes a short time to cook.
Have the table ready with lemon, sugar, jam, cream, whatever you like to add to your pancakes. You can also try making pancakes for savoury foods too. They work well with cheese and ham and with vegan options such as "foul mesdames", other bean dishes and salads. 

Please scroll down to the bottom of the page for a photo-essay on cooking a basic pancake, step by step.
Variations
You can ring the changes with this pancake recipe quite easily. I like to use about one third rye flour as it is so nutritious and it's a little more filling than plain white wheat flour.
See this page for more about using rye flour
You can also use a proportion of wholewheat flour, or make pancakes using 100% stoneground wholemeal flour. Then you can try self-raising flour for making pancakes - which produces a slightly fatter, bubblier pancake. Or you can add your own baking powder to plain flour. Use about 1 teaspoonful for every half pound of flour. You can also make pancake batter with a little added sugar, as in the pancake recipe below for drop scones.
Sponsored links
How to make pancakes - in pictures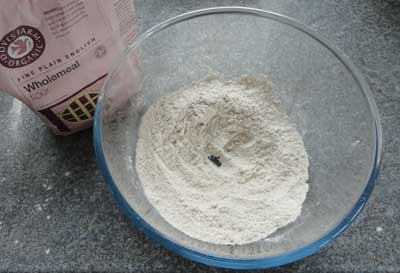 Measure out some flour and make a well in the middle.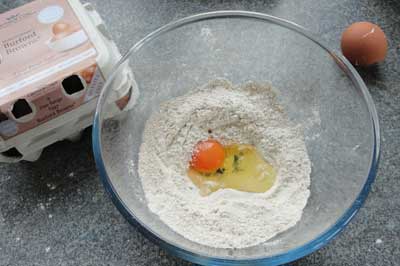 Add a free-range egg to the flour.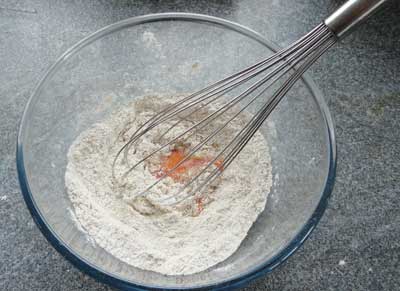 Gently mix in the egg using a whisk.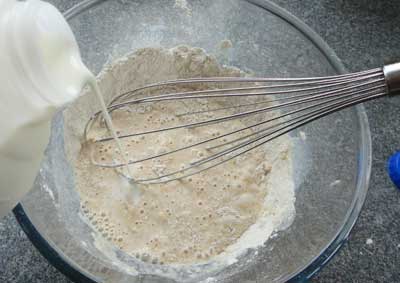 Add milk slowly while continuously mixing. Using a whisk helps prevent lumps forming.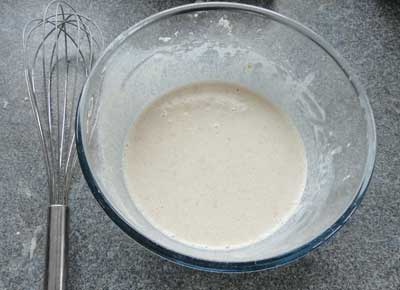 Keep mixing until you get a smooth consistency like cream. Set aside for around half an hour to improve the texture.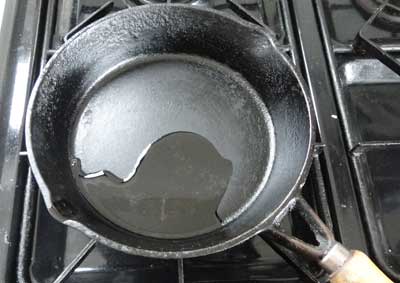 Heat up a little oil - the amount shown here is a bit over-generous!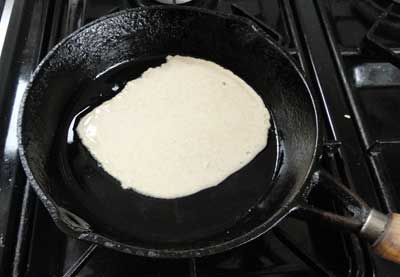 Add a good tablespoonful of batter once the oil is really hot and roll it round to cover the pan base.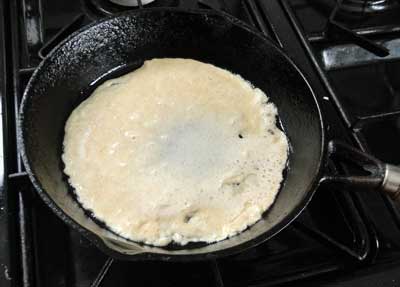 Cook on a moderate heat until the underside starts to brown and then flip or toss to cook the other side.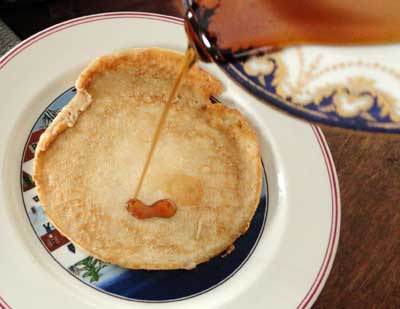 Turn out onto a plate when both sides are cooked. Add maple syrup or whatever toppings you like.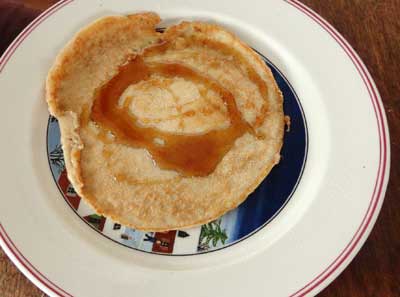 Eat and enjoy - then make some more!
You can keep a small stack of pancakes warm in the oven for a short while if need be. Separate them with greaseproof paper if you need to leave them for more than a few minutes to prevent them sticking together.
Scottish drop scones
Scottish drop scones (or "dropped" scones) are delicious and easy to make.
Here's a recipe for dropped scones.
1/2 lb self raising flour (2 cups)
1 tablespoon syrup
1/4 pint of milk (1/2 cup)
1 1/2 oz sugar
1 egg
Warm the syrup in a pan, being careful not to over do it
Add the milk and mix in.
Put the flour sugar and salt in a bowl. Add the syrup and milk mix. Beat the eggs and then add them in. The consistency needs to be like thick cream.
Heat your frying pan or griddle on the flame. Add a very little butter or oil and run it around.
Drop the scone mix into the middle of the pan and let it spread naturally. Once you have an idea of how much they can spread you may be able to make two at a time. When bubbles rise to the top gently turn the pancake and cook the other side. The resulting pancakes should be a light brown and glossy looking. The syrup helps get the right consistency.
You can eat them hot or cold. Store left over pancakes in an air-tight tin, separated by a piece of grease-proof paper.
*****
Sponsored links
Return from How to Make Pancakes back to Organic Healthy Recipes 

Greenfootsteps Home - for more easy green living ideas
How to Make Pancakes Copyright Greenfootsteps.com 2010
Please do not copy without permission. This site is protected by Copyscape