Porridge Recipes and Other Oat Recipes
Here is a collection of oat recipes to make your mouth water!
Oats are such a wonderful nutritional resource. If you are trying to adopt a greener lifestyle (and especially if you are anywhere near to where oats grow) then oats could become a significant part of your diet.
If you are not already using oats in a big way, try some of these easy oat recipes. They include a recipe for flapjacks, Staffordshire oatcakes and of course, porridge.
See below for some great reads on oats and related topics.
First, a little about the virtues of oats.
Advertisements
Porridge and other oat recipes:


Why oats?
Oats are renowned for their health benefits.
They help maintain a healthy heart and they help with stamina and energy. They are also good for your nervous system and help promote a sound night's sleep. They are also low in gluten, which makes them ideal for anyone who has trouble digesting high-gluten foods such as wheat flour bread.
The nutritional benefits of oats
The nutritional benefits are clear: oats - especially whole grain organic oats, are rich in vitamins and minerals, especially vitamin B and E, iron and magnesium. Magnesium and vitamin B are both particularly important for strong nerves (perhaps why those Scots explorers were so intrepid).
In 2007 an Englishman from Surrey, Mr Alec Holder, won a bet with bookies William Hill that he would live to be 100 years old, earning himself a £25,000 payout. When reporters asked him for the secret of his longevity and how he could be so sure he would reach 100, he told them he ate porridge every morning!
If you want more details on the nutritional value of oats and the different forms in which they can be bought see Oat flour and oat groats - oats any way you like!. (This page also has that wonderful Ode to Porridge by Spike Milligan).
Porridge and Other Oat Recipes:


Traditional Scots Porridge
Treat yourself to some porridge made the traditional, Scottish way!
Porridge has a bit of a poor reputation in some quarters. People think of it as slushy, tasteless goo that's only fit for spoon-feeding children too young to know any better!
Truth is, a lot of commercial porridge pretty much fits that description. But for those in the know, porridge is a hearty, tasty, scrumptious meal which will stand comparison with practically any breakfast dish world-wide.
Bold claims, I know.
Porridge and Other Oat Recipes:


So how do you make this legendary dish?
Just in the traditional Scots' way using nothing more than oats, water, salt and (most essential!) cream.
Oats are milled in several ways. The commonest way is to roll the grain to produce rolled oats or oat flakes. The oats you usually find in supermarkets have also been refined and cut so that they cook very quickly. Some have even been pre-cooked to reduce cooking time - trouble is this also reduces their nutritional value.
Some of the best oats to be found are pin-head oats. The whole oats are just cut into tiny pieces - (a bit like bulgar wheat). When you make porridge with these oats the texture is dense and the flavour is incomparable - though probably not to everyone's taste.
You can buy them in most health food stores and some supermarkets. If you can find organic pinhead oats, all the better.
You don't have to use pin-head oats of course. Porridge made with rolled oats is fine, particularly if you buy good quality organic oats.
It's probably best to avoid the more pappy processed oats, except in emergencies. The nutritional value is relatively poor, the texture and appearance is of papier-mache and the taste is practically zilch!
Porridge and Other Oat Recipes:

Porridge made with pin-head oats
Ideally, you need a double boiler. The idea is to cook the porridge slowly, retaining the unique texture and nutty taste of the grain. A double-boiler enables you to cook slowly but thoroughly.
Fortunately, you can manage quite well with an ordinary, heavy bottomed pan, such as a cast iron one. A cast iron pan works well without sticking provided that you keep the oats moving towards the end of the cooking time.
(For tips on how to keep cast iron pans virtually like non-stick, see the page on cleaning with salt)
A non-stick pan reduces the time needed slightly but you may prefer to avoid them as they are otherwise less environmentally friendly.
Method
Put one cup of pin-head oatmeal into the pan.
Add 3-4 cups of cold water and stir well. if you prefer you can reverse the order: put the water in the pan, boil it and add the oats, stirring as you go. This way it can be easier to mix without lumps.
Add a pinch of good salt such as rock salt.
Heat slowly and gently. When the porridge starts to bubble turn down the heat and put a lid on.
When the water is all absorbed the oats should be cooked. This takes longer than for rolled oats - about 20-30 minutes. Turn off the heat and leave the for a few minutes to cool.
Serve in a bowl with a good helping of rich organic cream. Add extra salt if you want.
This makes enough for 3-4 people. Absolutely delicious!
Sugar shock!
Of course some Sassenachs and the like will want to add honey, maple syrup, - or even sugar! Let them - you can enjoy your porridge in this traditional style, secure in the knowledge that you are doing it right!
If you really want to eat it in the traditional way, keep the cold milk or cream (or milk and cream mixture) separate and take a spoonful of hot porridge and dip it into the cold milk each time. That way you get a wonderful contrast between the two.
For the full Scots' heritage experience you should also eat it from a birch-wood bowl while standing up!
Whether you are a Sassenach or a full-blooded Scot, you should find that the above recipe gives you an extremely nutritious, tasty and sustaining start to the day.
Porridge and Other Oat Recipes:


Other ways to prepare porridge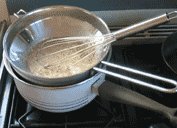 You can, of course, enjoy porridge in a number of ways.
Many people in England like to make it from rolled oats with milk mixed in at the beginning.
Or you can make it with half and half milk and water. Lots of people enjoy a spoonful of honey, syrup or jam on their porridge.
One way to enjoy porridge is to make it with muesli or added fruit.
Picture: Porridge made with muesli using a bain-marie
Porridge and Other Oat Recipes:


Muesli porridge
This is nice in winter.
The method for making it is much the same as for the porridge oat recipe above. Experiment with the amount of water or milk added until you get the consistency how you like it.
2 - 3 cups of water to the cup of muesli is probably a good place to start.
Mix it well to prevent the fruit sticking to the bottom of the pan. A whisk is helpful for this. Use a double-boiler if you have one. A bain-marie works well too. I usually make muesli porridge in a simple cast-iron saucepan and only cook it briefly - just enough to break down the coarser cereals in the mix.
There are lots of other oat recipes worth trying. Oats can also be added to some dishes easily. For example, rolled oats can be added into pancake mixes for a more nutritious dessert.
Here is some recommended reading about oats and other cereals.
The Oats, Peas, Beans & Barley Cookbook Author Edyth Young Cottrell is a research nutritionist from Loma Linda University. Her book includes how to make entrees, breads, desserts, vegetables, and more with natural unprocessed foods. There's also a section on the numerous things you can do with soy beans to make mayonnaise, creams and all sorts of low-fat, low-cholesterol nutritious foods.
Prevent and Reverse Heart Disease: The Revolutionary, Scientifically Proven, Nutrition-Based Cure How changing your diet can save your life! This book is packed with nutritional advice as well as easy, delicious recipes.
The Oat and Wheat Bran Health Plan: The Delicious Way to Lower Cholesterol... A low cost way to learn more about oat cuisine.
Prevention Fiber Up Slim Down Cookbook: A Four-Week Plan to Cut Cravings and Lose Weight All you need to know about using cereals to help you slim. Includes 200 delicious fibre-rich recipes.
Here's a basic recipe for oatcakes. These are traditional fare in North Staffordshire in the UK and are eaten with savoury foods for breakfast, or as a snack any time. They look like a fat pancake and they are absolutely delicious. Many families had their own closely guarded recipe, so there are a good number of different ways to make them.
For the full Staffordshire experience, eat them with bacon, cheese, sausage and eggs in any combination. They have a reputation as a good hangover cure! (Yes, they are high fat prepared this way, so you might want to be sure that your overall fat intake is balanced.)
You can also eat them with jam, syrup or honey.
Ingredients
8oz fine oatmeal or oat flour
8oz plain wholemeal flour (you can use white if you prefer)
up to 1 teaspoon of salt
1/2oz fresh yeast or 4 teaspoons of dried yeast
1 1/2 pints warm milk and water, mixed half and half
1 teaspoon sugar

You can make your own oatmeal by putting rolled oats into a food processor and whizzing on a high speed setting.
You can use dried milk, thinly mixed instead of the milk and water mix, if you prefer.

Method
Mix the salt, flour and oatmeal.
Dissolve the yeast into the warm water/milk and add the sugar.

Set the mixture aside to become frothy (10 - 15 minutes)

Mix all the ingredients together to make a batter

Cover the batter with a cloth and leave it in a warm place for an hour

Cook the oatcakes on a well-greased griddle. You need enough batter on the griddle to produce an oatcake about 8-9 inches across. The surface will be covered in holes as it cooks - this is normal.
Turn the oatcake after 2 or 3 minutes when the top side looks dry and the underneath is golden brown.
Cook for another 2 - 3 minutes until the whole oatcake is golden brown.
Eat them as soon as possible!
They can be kept in a tin for later but usually they won't be around for that long! This is one of the most delicious but simple oat recipes.
Read on below the ads for a flapjack recipe
Advertisements
Porridge and Other Oat Recipes:


Flapjacks
There are loads of different oat recipes for flapjacks.
Here's a very yummable version made with dried apricots. Of course this may be too heavy on fats and sugar if you are on a restricted diet. For most people, foods like this can be eaten in moderation as part of a healthy, balanced diet - especially if you are getting plenty of exercise!
Ingredients:
100g butter,
75g golden syrup
755 soft brown sugar
125g rolled oats
75g dried apricots

Method
1: Set oven to 180c / gas 4
2: Grease a tin approx 20x30cm 
3: Put the butter, sugar and syrup in a saucepan and stand over a low heat until melted. Stir. 
4: Stir in oats and apricots. Mix well. 
5: Spread mixture evenly in the tin. Press it down with the back of a spoon.
6: Bake for 20-25 mins until just browning at edges (but not too much or flapjacks will become hard). 
7: Allow to cool in tin for 5-10 mins, until set then cut into 12 squares and remove to cool on a wire tray.
8: Enjoy!
Porridge and Other Oat Recipes - top of page
Green Recipe Book - Organic Healthy Recipes 

Greenfootsteps Home - for more easy green living ideas