Organic Christmas Recipes for Your Winter Feasts!
Here are some organic Christmas recipes to celebrate the start of winter

These organic recipes have a Christmas theme - or if you prefer, a winter solstice theme! This web site does not take a specifically Christian view so these recipes are suitable for anyone who wants to celebrate the start of winter with a good feast.
Any recipe can be organic - or largely organic - if you can find the produce.
Advertisements
What's here?
Scroll down to see easy organic recipes for Christmas cake, marzipan icing, royal icing and mincemeat.
Why Organic?
Organic food gives us the tastiest and purest eating experience. For our health's sake and for the health of the planet it is best to eat organic food whenever possible.
The ingredients for the recipes here below are mainly easy to find. Where it is difficult to find organic versions, you might want to find a similar substitute e.g. substitute organic dates for artificially-coloured glace cherries.
Organic dried fruits are usually easy to find in supermarkets and health food shops. I usually rely on my local health food shop for most ingredients. Even if your Christmas cake gets made with just some organic ingredients, you will probably notice the difference.
Picture: An organic Christmas dinner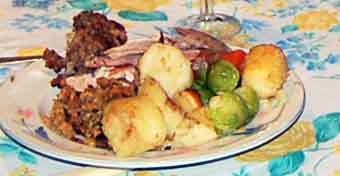 Organic Christmas Recipes:

Organic Christmas cake
This is the traditional recipe we use in our household. It never fails to deliver a rich and delicious cake. It needs to be made a good month in advance of Christmas for best results, as the juices from the dried fruits need time to infuse into the cake. You can help this process along by "feeding" the cake with a little brandy from time to time!
Christmas Cake ingredients
18 oz of currants
8 oz raisins
8 oz sultanas

4 oz glace cherries

2 oz chopped dates

4 oz candied peel

10 oz wholemeal flour

a pinch of salt

1-2 teaspoons of mixed spice and cinnamon

1/2 lemon juice and peel

10 oz butter

10 oz soft brown sugar

6 eggs (medium)

3 tablespoons of milk
Some variations
You can easily increase the amount of spice if you like.
Lexia raisins are particularly tasty.
Other fruits and nuts you might want to include: chopped apricots or figs, chopped hazelnuts, walnuts, brazils, blanched almonds, pumpkin seeds.
You can include any dried fruit or nuts really - just substitute the raisins currants or sultanas by weight and make sure that everything is chopped into a manageable size.
Organic candied peel and glace cherries may be hard to find. You can omit them if you prefer or substitute more lemon peel and orange peel and add in extra dates, pieces of ginger, or other fruit.
Organic Christmas Recipes:
Method
Wash and dry the dried fruit and chop up larger pieces. Heat the oven to 300 degrees, gas mark 2. Prepare a large cake tin - 9 inches at least with thick grease-proof paper lining. It is best to make this extend above the top of the cake for about 3 inches above the rim of the tin as this helps to stop the top of the cake from burning.
Put all the fruit and nut ingredients into one bowl. Mix the dry ingredients in another bowl - the flour, salt, spices.
Cream together the butter and sugar and then add the lemon juice and grated lemon peel. If you are using a food processor or electric whisk you can add the eggs at this stage too. If there is any sign of curdling of the mixture, just add a few teaspoonfuls of the flour and carry on processing.
If you are making the cake entirely by hand it is better to beat the eggs separately and then add the beaten egg mixture a little at a time to the butter and sugar mixture. Again, add a little flour if the mixture starts to curdle. This helps the finished cake to have a good consistency.
Now add the fruit to the egg and butter cream mixture. Carefully turn the mixture to distribute the fruit.
Fold in the flour gradually. When the mixture gets stiff and difficult to turn add some of the milk. Continue until all the flour is used up. When you have finished the mixture should drop from the spoon.
Put the mixture into the cake tin and smooth it with a palette knife or the back of a metal spoon. Put a slight dip in the centre so that when the cake is cooked you should end up with a flat top.
Bake the cake. It will take about 4 hours. It should be placed low down in the oven. You may want to shade the top after a little while with a little silver foil to prevent excessive browning. The cake is ready when it is firm to the touch and a skewer inserted in the centre comes out clean.
Let it cool in the tin and then turn out and wrap it in greaseproof paper or tin foil (greaseproof paper is less environmentally damaging). Store in an airtight tin. If you want, add a few tablespoonfuls of brandy by pricking the top and pouring the brandy over the holes.
Read on below for some more ideas for organic Christmas recipes.
Sponsored links
Now for the icing on the cake...
Organic Christmas Recipes:
Marzipan icing
Marzipan icing is pretty easy to make. It is simply egg, ground almond and icing sugar. If you make your own you can make certain that the egg is organic, or at least free-range. Most health food shops should stock organic almonds.
12 oz icing sugar
12 oz ground almonds
1 egg
1/2 lemon
1 tsp of vanilla essence
Sift the icing sugar and add the ground almonds. Whisk the egg lightly before you add it to the other ingredients. Add lemon juice as needed to get the right consistency. Use a wooden spoon to mix. It should knead easily into a ball which you can then roll out to shape for the cake top. Use icing sugar to prevent the marzipan from sticking to the rolling board.
The marzipan can be applied to the cake using apricot jam as a glue. (Apricot is good because the taste is mild and there are no pips - but you can use other jams if need be.) You might want to thin the jam with a little hot water.
When your marzipan icing has dried in place a little - a few days is good - you may want to add royal icing to complete the Christmas cake look.
Organic Christmas Recipes:
Royal Icing
This will dry to a good hard glaze on top of the cake. You can use it as a rough coat or if you are a perfectionist you can flatten it and smooth it to an ice-rink like finish!
1lb of icing sugar, well sieved
2 egg whites
1 tsp glycerine

Separate the eggs and stir the whites with a fork to break them up a little. Mix in half the sugar with a wooden spoon. Spend about 10 minutes mixing to get a good consistency and then let the icing stand for an hour to let air bubbles rise. Add the rest of the icing sugar and then add the glycerine.
The consistency should be firm so that a fork or knife can raise a peak in the icing. Leave it overnight for preference in a cool place before icing the cake.
You'll be doing well if you can face a slice of this very rich cake after your Christmas dinner!
Although I follow the British tradition of over-eating rather lavishly at Christmas, I do tend to feel very well on it. I put this down to eating mainly top quality organic foods, including plenty of fruit in the shape of Christmas cake, Christmas pudding and mince pies.
See The nutritional value of fruit for more on the benefits of fruit.
Easy organic mincemeat - a piece of cake!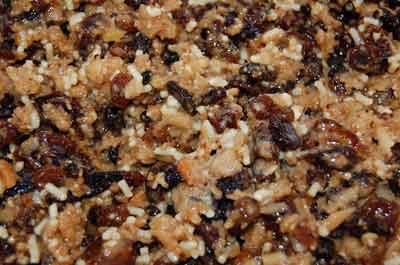 Organic Christmas Recipes:
Home made mincemeat
Organic homemade mincemeat is very easy to make - just a little time consuming. You should be able to find most ingredients. The recipe is really easy as there is no coking - just chopping and mixing to be done. It's a good one to involve the kids in.
The results are well worth it and people will almost certainly compliment you on your mince pies made with this organic Christmas recipe!

Organic Christmas Recipes:


Mincemeat ingredients
1 1/2 lbs of currants
3/4 lb sultanas
3/4 lb raisins
1lb of sugar
1lb of grated apples
1/2 lb candied peel
1lb suet or vegetarian suet substitute
1/4lb almonds (blanched)
grated nutmeg
juice of one orange
juice and rind of one lemon
Method
Chop all ingredients fairly finely and mix together. Keep well covered until used. That's it! It does keep quite well. I have used some from last year which was ok - perhaps not quite as good as when freshly minted.
If you want to lay some in store for next year a dash of brandy would help the keeping quality.
Here is some recommended reading about Christmas and festive fare - also a useful product or two to make festival baking a piece of cake!
I'm Just Here for More Food: Food x Mixing + Heat = Baking All the whys and hows of baking so that you get quality results no matter what recipe you use. Alton Brown's book helps you to become a great baker!
Rose's Christmas Cookies Rose Levy Beranbaum is a talented baker and the former owner of a New York cooking school. This is a beautiful and practical book: you don't have to already be an expert to take advantages of its wisdom.
11''-12.5''-14.5'' STAINLESS STEEL BAKING TRAY 3-PIECE SET Proper baking trays which last for years!


Organic Christmas Recipes Top of Page
Green Recipebook - Organic Healthy Recipes

Greenfootsteps Home - for more easy green living ideas
Organic Christmas Recipes copyright Greenfootsteps.com 2007