Green Christmas Ideas for Some Frugal Festive Fun
Here are a few easy green Christmas ideas for some festive fun.

Green Christmas projects can be fun for little ones and for all the family - and they may even be a help with stretching that Christmas budget! There's quite a bit can be done to make Christmas a greener affair.
Here are a few fun green Christmas ideas to make Christmas more creative and festive without adding any real expense. Most of these ideas are suitable for children as well as adults.
Greener Christmas decorations
Picture, left: A Christmas tree card with thanks to Desi
If you are at all arty or crafty it's great fun to make your own Christmas decorations, cards and stocking fillers. Here are a few ideas.
Pine cones can be "improved" with a little paint, glitter or artificial snow. (Artificial snow can be made with a mixture of talc and granulated sugar - mix 50:50) If you are a bit more ambitious you can hang them on the tree. Just attach a bauble and small piece of looped ribbon with some hot glue or a bonding glue. An easier thing is to set them into a small display together. Plasticine does quite well for this. Add liberal dusting of artificial snow.
Artificial snow can be used in lots of ways. Frosting window sills and windows is easy, though perhaps hard to do well. Just use a paste made from flour and water and draw it on with a cotton bud or similar. You can also use glue sticks if you prefer. Either way it's fairly easy to clean the windows afterwards (vinegar again!) Blow the snow on with a straw or flick it on carefully. It's a bit messy but fun.
Nuts in their shells can also make attractive decorations. Just decorate with non-toxic paints and glitter and hang with light-weight thread.
Play dough
Homemade Christmas decorations such as stars and moons can be made for your tree with standard play dough. Mix together flour and salt (4 measures of flour to one of salt). Add water and knead to make a smooth dough that does not stick to the sides of the bowl.
Use cookie cutters or model pieces individually. Bake your creations on greaseproof paper. You can cook them in a microwave or conventional oven. Pricking them gently before baking makes for a more even result (releases gases). Add a little cream of tartar if you want a harder product - about 2 teaspoonfuls per cup of flour. You can also add food colour but don't be too generous as it may impare the strength of the dough.
Sponsored links
Christmas cards
Send some green Christmas cards. There are now lots of charities which sell cards for a variety of good causes. Many of them use recycled paper. The WWF (World Wildlife Fund for Nature) and Oxfam have some great designs.
Many local councils now operate special recycling schemes for Christmas cards, so there's no reason to feel that you are just adding to landfill!
If you really want to by-pass all that envelope stuffing, send an e-card. This isn't so great if you like to display your cards for all to enjoy but it's a great be a little more environmentally conscientious. Also good if you miss the last posting date...and of course you can print out any you receive if you are organised enough.
The Marine Conservation Society has great e-cards - check them out through the links page. Care2 do some wonderful original ecards for all occasions.
Homemade Christmas cards are easy to make and you get an excuse to recycle a few things inventively. Recycled coloured paper or card, glitter, scissors, glue pens or sticks and a few fancy coloured pens are all you really need. Just add children...
Picture, right: Christmas card making thanks to Desi
Homemade Christmas crackers are easy if you use recycled paper towel rolls, or other cardboard tubes and crepe paper. For a more sophisticated approach you can buy craft kits for Christmas crackers which include the "snap" devices.
Homemade wrapping paper
Homemade wrapping paper is cheap to make but can be rather nice to look at. Use potato prints on good quality recycled paper. Add glitter or frosting. Alternatively, use stencils and brightly coloured paint to jazz up your paper. Large sheets of thin white paper are generally cheaper than all but the cheapest of wrapping papers.
If you save re-usable bits of wrapping paper you can use it for cut-outs to stick on your homemade paper.
Paper-marbling is an old-fashioned craft that kids love. With a little care you can produce wonderful paper for wrapping small presents or covering books and files. A small stack of marbled paper could make a pretty Christmas present from a child.
Stocking fillers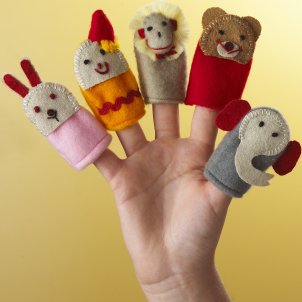 Finger puppet sets made with felt make a nice stocking fillers for young children. Older children will (usually) enjoy making these for younger siblings. Use ordinary coloured felt with scissors and glue. You'll get better results if you draw the characters first.
These charming felt finger puppets are from Natural Collection
Other stuff
Don't forget, if you are buying new Christmas lights to check out LED lights which are now retailing in the big stores. They are a lot more energy-efficient than old-style incandecent bulbs and they look good, too.
Sponsored links
Christmas eating
Buy an organically farmed turkey or goose.
Goose used to be the preferred Christmas day table centerpiece. The rise and rise of the factory turkey farm has eclipsed it in recent years. Whether you prefer turkey or goose, check out a local supplier and find some good honest organic fare.
The best birds are grown slowly and are well fed on organic food. They are allowed to roam free and have access to natural forage foods as well as eating carefully formulated organic feed. "Bronze" turkeys are tastier (and more expensive) than the white variety.
You can buy organic meats in Britain, mail order, though they do tend to be expensive.
Wild meat and fish
Wild meat is also a very green and potentially sustainable way to get some festive fare. Wild fowl is far lower in fat than most farmed birds. It needs carefully cooking to ensure that it is tender.In Britain wild meat is available mail order.
The ethics of wild meat is a big subject, beyond the scope of this short article. Some species are clearly plentiful and by no means endangered (e.g. wood pigeon) whereas others (e.g. hare) are suffering a big decline in numbers.
If you like to serve mouth-watering starters at your Christmas bash, why not consider some organic or wild salmon? You can serve it on blinnies or pretzels or delicious rye crackers with cream cheese and a herb garnish. These are simple and quick to prepare.
For more on the ins and outs of sustainable fish please see The nutritional benefits of fish
Nut roast and mincemeat
If you prefer a vegetarian Christmas meal an organic nut roast is a very acceptable alternative to most vegetarians. Use a good variety of nuts, partly pre-roasted to bring out the flavour.
Create your own organic Christmas mincemeat. This is a fun job, especially if the kids help. Homemade mincemeat is far more flavoursome than the bought stuff, no matter how expensive. For an adult twist (after the kids have finished their hard work) you can add a dash of cognac or other spirits to liven it up even further!
There's a recipe here: Organic Christmas recipes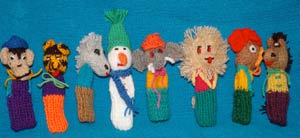 Picture: Knitted finger puppets from EticaFairTrade
*****
Green Christmas Ideas for Festive Fun - top of page
Frugal Living - Living Well on Less

Greenfootsteps Home - for more easy green living ideas
Green ChristmasIdeas for Frugal Festive Fun
Copyright Greenfootsteps.com 2007
Please do not copy without permission, except for personal use.
Sponsored links