Cycling in Holland
Cycling in Holland - what a blast!
Cycling in Holland is quite a different experience to cycling in England. Everywhere there are cycle routes, cycle lanes and cycle signposts.
Best of all, there are also cyclists! Cyclists often out-number cars and other vehicles and even when cycling in traffic you often feel quite safe because most Dutch car drivers are also cyclists – so they know how to behave towards two-wheeled road users.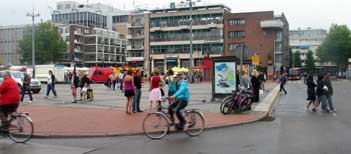 Picture above: A rainy Saturday in Groningen - Where are the cars?
Cycling in the Netherlands is a way of life; one you can share for a while as a cycle tourist. I can't recommend cycling in Holland highly enough. It's a great way to have an eco-friendly and enjoyable holiday; green living on the go. You can be sure to keep your carbon emissions well down by taking this type of vacation.
Let me start with some of my own experiences of cycling in Holland. I've cycled in the Netherlands at least three times now - (not counting a bike hire experience from the seventies when the back pedal brake nearly defeated me and I thought I was going to end up in a canal!) I'll use some of my own experiences to show how easy and pleasant such a trip can be.
A cycling trip to north Holland
Here's a bit about our most recent bike trip to Holland, in 2010.
Cycling in Holland is a natural choice for us as we live quite close to the ferry terminal.
We took the night ferry to The Hook of Holland. This is a very convenient way to start if you live not too far from Harwich (in Essex, South-east England). Bikes cost a bit extra to take of course and the cabin adds a bit more. It's quite a lot cheaper than taking a car.
Cycling on and off the ferry is very easy, though I'm sure some of the ramp edges could be slippery in wet weather. It feels quite strange cycling on amongst the cars and lorries. Bikes can be tied to bulkheads or put into special racks for security during the voyage.
In order to cut out some of the route we did with our children some years earlier, we took the train from The Hague. This was quite simple, once we'd worked out how to get into the building!
The train was not so expensive – at least compared to travel on British trains and the bikes had their own tickets at 6 Euros each. The carriages which take bikes are clearly marked and there is room to sit with or near your bike. These compartments can get crowded and getting bikes in and out can be a challenge when there are numerous machines parked in all the spaces and more. People are far more tolerant of this than we Brits would be, I think. On one train a cyclist even had his bike jammed into the central aisle. The handlebars were almost in the face of seated passengers - no-one batted an eyelid.
Next stop was Hoorn which is a prosperous small town near the IJsselmere. We camped in a little village outside Hoorn on an organic dairy farm. The people were friendly and a good many touring cyclists arrived, even people with very small children and large tents!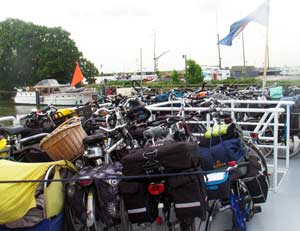 Picture above: the boat over the IJsselmere carried almost as many bikes as people!
The following day we cycled to the ferry at Enkhuizen and caught the next boat across the IJsselmeer. The boat was absolutely jam-packed with cycles. (See the picture above.)
When the time came to disembark, I was impressed by how quickly everyone was able to reclaim their bikes and get en-route.
Cycling in Holland: The North Sea coastal route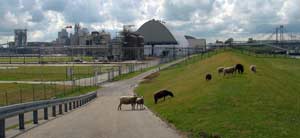 Picture: Sheep on the cycle route along the dyke with an industrial wonderland in the background. 
We continued our tour, continually impressed by the wonderful bike routes and the friendly Dutch. We headed for the north coast again via Leeuwarden and eventually made it to the German border.
The route along the dykes of the North Sea coast was impressive in some ways but the sea is nearly always hidden behind the dykes which protect the land from flooding. It is quite strange to sit atop the dyke and see how much lower the land behind you is compared to the beach.
We decided not to visit any of the many offshore islands. They sounded great but the travel arrangements sounded complex for island hopping – so we left that for another time.
Sponsored links
Country cycle routes in Holland
There are numerous cycle only routes through the countryside.
While it is brilliant to have so much traffic-free choice, some of these routes can be a bit confusing if you don't have a decent local map. Some are very narrow in parts and passing can be a challenge if you don't want to dismount. There are also some which are quite unsuitable for road bikes, mainly because of sandy patches or mud. This was one part where our all terrain bikes came in handy.
We got slightly lost a few times, thanks to our inadequate maps but we did not stay lost for long as there are plenty of signs at frequent intervals.
Many of the larger bike routes do allow scooters and low-powered motorbikes, so the peace is not always perfect.
Cycling in Dutch towns and cities
The Dutch people have really worked hard to create a user-friendly and safe cycling network which extends into and throughout all towns and cities. For me, this is one of the most novel and agreeable aspects of cycling in Holland; you can actually enjoy cycling about in the middle of the largest towns. Cycle routes and lanes are clearly marked and are often separated from the traffic. Cyclists get their own stop signs and roundabouts and junctions are designed for safety of the slowest and most vulnerable of road users.
One cannot help but ask - "If the Dutch can do it, why can't we?" Here you will not find cycle lanes only 30 or 40cm wide or junctions where all the cycle lanes just disappear. Sadly, these are a bit of an English specialism!
Most of the time we were noticeably slow compared to the Dutch on their city bikes. Many a middle-aged hausfrau sailed effortlessly past us while chatting with friends on the town roads – and they did not all possess electric bikes!
We have enjoyed cycling in Amsterdam, Rotterdam and Delft as well as Groningen (green city extraordinaire!) and have rarely encountered difficult crossings or inattentive drivers. On the contrary, we enjoyed touring by bike and can thoroughly recommend cycling as a great way to see the city.
The different types of routes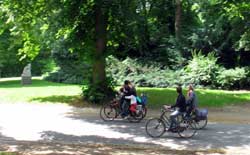 Signposts are plentiful for Dutch cycle routes but even so, navigating can be complex - at least to novices like us.
There are the long distance routes, marked with an LF (landelijke fietsroutes) number. The signs don't always keep you on track but there are enough of them that you don't go too far astray. Also there are more local routes in some parts called "Knooppuntroutes". These are well signed with a special numbering system that gets you from one marked point to the next.
There are also general cycle signposts which point the direction and give the distance. These are usually very good. Nevertheless, we still managed to go wrong on the journey from Rotterdam back to the ferry at The Hook because the Hook was not signposted for the most part - so we took in an unscheduled tour of Delft!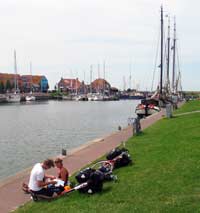 Obviously it's worth having a decent map - something that we failed to achieve! The tourist board shops (VVV) we visited never seemed to have the right map for us so we muddled along with our Vrienden op de Fiets map (see below) and a general guide which was often too large scale to be useful.
I hear that the Landelijke Fietsroutes maps are a good starting point - but we never seem to find them. They are on a scale 1:150,000 which is big enough to be useful.
Picture: Checking the route - a good map is almost essential!
Netherlands Cycling and Hiking Routes Map (ANWB Nederland Fiets- en Wandelroutekaart) The ANWB map (pictured, right) is probably a good starting point, too. We never came across them at all in Holland so maybe it's far better to buy before you go! They are supposed to be available in VVV or ANWB tourist offices.
The tourist offices in Holland are plentiful and well-signposted. As they tend to sell lots of tourist memorabilia - and gift-wrap it, too, it can take an age to get served!
A good guide such as Bicycle Touring Holland: With Excursions Into Neighboring Belgium And Germany would also be a wise investment. Its had great reviews and it deals with everything even including translating road signs. Next time I'll be using this!
If you've never been cycle touring at all, check out my page Bicycle Touring - an Eco Friendly Way to Go Travelling for a discussion of some of the things you need to know to get started.
If your curiosity about cycling in Europe has been piqued, take a look at Cycling in Belgium, too.
Electric bikes
Cycling in Holland is easy but even so, electric bikes are becoming quite common there. I got to try one when we fell into conversation with some friendly people in a village pub. I only went for a couple of hundred yards up and down a hill (Yes, a hill!) but I'm a total convert. As far as the "Is it or isn't it an eco-friendly purchase?" goes – well that's for another page. Suffice to say, that if you are thinking of buying a small car or motorbike for local commuting – take a look at e-bikes first! It's like having bionic legs.
The Dutch seem to have adopted e-bikes. We saw quite a few and there were numerous models on sale in bike shops. 
Cycling in Holland with children
When our children were eight and ten we decided on a holiday in Holland by bike. We took the ferry from Harwich to Hook of Holland and just cycled off to the first campsite. Nothing too difficult. We pre-booked the campsite, if I remember correctly.
We cycled up the North Sea Route (NordSee Route) which hugs the coast, through sand dunes and small villages until you arrive in The Hague (Den Haag). All this is quite easy with children in the party. The only fearsome part is the sudden arrival of the relatively speedy and noisy "brommers" - low-powered scooters and bikes. These are allowed on most Dutch cycle routes. They can come out of nowhere, weaving through cyclists and pedestrians.
In The Hague we found things more difficult because there was quite a lot of traffic and some of the cycle routes disappeared into back route roads which were not so quiet for young children and anxious parents. We ended up walking quite a bit until we emerged on the other side in Scheveningen – The Hague's beach resort.
Many of the bike routes we chose were quite quiet and entirely suitable for young children under supervision. My kids had already done a cycle training course at their primary school. Nevertheless, if you are to go cycling in Holland with young children, I'd recommend preparing rather better than we did. I found myself yelling instructions as I read the road markings and signs, trying to make sure that everyone was doing the same thing. Junctions are probably the greatest hazards as there can be lots of options on offer.
Camping and cycling with children is certainly not easy. By the time we arrived in Zandvoort we were fairly exhausted so we just went for the beach holiday option with a few excursions (by train) to Amsterdam and Haarlem.
Cycling in Holland with children is a challenge but plenty of people do it. It's probably the safest place in the world to attempt cycle touring with kids. If you can, go cycling in Holland before you have kids, then you have at least some idea of what to expect. And take/buy decent maps.
Equipment and breakdowns
Cycling in Holland, like cycling anywhere, you need to think about possible breakdowns and repairs. The Netherlands has lots of bike shops and repair shops and there is usually a bike hire and repair place near the main station in the larger towns.
One of our bikes has heavy-duty tyres which are supposed to be puncture proof and we had no problems there. My bike had green gunk in the back tyre pumped in before we left. I did get a puncture in the middle of nowhere. We turned the bike over, extracted the thorn which caused it, and then span the wheel and the puncture was gone. A worthwhile £2 spend on green gunk – definitely easier than messing about with tyre levers and puncture kit by the side of the road.
Cycling in Holland is encouraged and well supported by numerous shops and workshops as well as good cycling roads and tracks.
You can read a bit more about our experiences here: My local cycling and transport blog.
Cycling in Holland – a few useful links
Cycling in Holland does take a bit of preparation and organization. It's certainly worth planning well. Here are a few organisations that might be helpful if you are thinking of giving it a go.
www.vriendenopdefiets.nl/ (Friends on Bikes) has a list of over 3000 guest houses where cyclists are welcome. They produce a book with maps which we used a lot though we never used the guest houses. It costs just a few Euros to join.
Amsterdamize.com I love this site because it takes the view that cycling should be a normal activity! Well worth a look. It gives some info on how the Dutch have come to have such a great cycle network - something for the rest of us to work on!
www.fietsrouteplanner.eu/ offers help with route planning anywhere in Europe.
http://meldsysteem.nederlandfietsland.nl/ has a planning map for the LF routes - unfortunately the English page seems to have been taken down.
See also Sustrans - the North Sea Route
*****
Cycling in Holland - top of page
Travelling - Eco-friendly Travel Ideas 

Greenfootsteps Home - for more easy green living ideas
Cycling in Holland - copyright Greenfootsteps.com 2010
Please do not copy without permission, except for personal use.
This site is protected by Copyscape