More Cycling in Belgium - Ghent, Trams and Trains
Here is more on cycling in Belgium - for the first page please see: Cycling in Belgium - our experience.
Touring by bike in Belgium is mainly easy and fun. Here are some of our experiences with city bike paths, trams and trains and travelling around one of Belgium's most beautiful cities - Ghent.
The Ghent canal side is a relaxing place because of the lack of traffic and the wonderful old houses and bars
After cycling around Bruges and down the canals, next we arrived in Ghent.
So far, cycling in Belgium had seemed easy. We were interested to see if the experience would be so good in a big city.
Cycling around Ghent proved easy. There are safe cycle-ways along side canals and through quiet streets into the central area. We did the trip from the campsite to the town a couple of times and also cycled around the central area. The signposts were reasonably adequate, once you began to know some place names.
Bikes and trams
The main hazard to watch out for in Ghent is the tram network. Trams and tramlines criss-cross the central plazas. The problem with tramlines is the deep ruts, which can trap your wheel and wrench you off course if you get them wrong. That, coupled with being on the look out for (almost silently) advancing trams can make for a nerve-racking time at first.
Once you know the road layout and know where the trams may appear from, life gets easier and cycling in town soon becomes a pleasure.
Picture: A tram in central Ghent
Sponsored links
A cycle-friendly city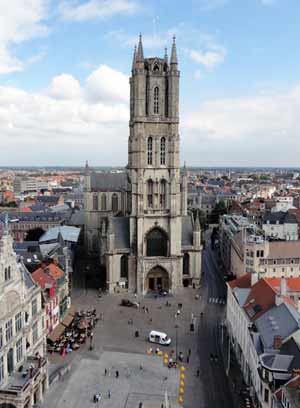 As you can see from the pictures, central Ghent can be almost traffic-free at times. The authorities developed a plan to reduce traffic, especially private cars, and make the city bicycle-friendly. It appears to have worked well and improvements are still on-going.
Outside of the central area bicycles and cars co-exist reasonably well. There are many good cycleways to get you to wherever you want to go. Many of them are traffic-free. As in Holland, most intersections have good provision for two-wheeled road users.
Cycling in Belgium: Ghent St Bavo's cathedral view - again, you can see how quiet the central streets are.
Red carpet treatment - almost!
One mistake we kept making where the cycle route crossed a road was to wait at the roadside for a gap in the traffic before crossing.
The bright red lane crossing the road and the pointed white flashes should have told us – cyclists' priority! We did not believe our eyes until we'd seen several cars slow down and await our decision to cross. Red carpet treatment for cyclists!
We would be happy to have to get used to such a system here in Britain, where cyclists often feel that they have very few rights on the road.
Cycling in Belgium usually felt like a fairly safe pursuit. Some of the cars are pretty zippy but I had the impression that most drivers have a good level of awareness of cyclists' needs on the road.
More cycling in Belgium: bikes on trains
We left Ghent by train for the almost sunny south (Strasbourg). We paid nine euros for each bicycle – a flat fare I believe.
We waited for the train to Brussels and found the bicycle carriage without too much difficulty. However, the next connection (from Brussels to Luxembourg) was more problematic.
The train arrived and the correct carriage was impossible to spot – even though we'd positioned ourselves at the rear of the platform, so that we could watch the carriages pass us as the train slowed. Eventually the guard waved us back towards the middle of the train and opened a door for us. The bikes had to be loaded quickly into a box that was barely big enough to contain them with their handlebars skewed. Fortunately, there were no other bikes in there already and no cyclists waiting on the platform either. It was clear that the box would accommodate two or three cycles at best.
Worse, the box was nearly a metre above the platform level! Pushing heavily laden bikes into the space available certainly challenged our fitness levels – it's never been part of my plan to become a weightlifter. The guard certainly did not see it as his job to assist – just to chivvy us so that the train was not delayed.
So much for our expensive cycle insurance – there was neither time nor opportunity to lock the bikes to anything. However, the guard did lock the door and we went off down the train to find somewhere to sit.
When we regained our iron steeds at Luxembourg they seemed OK apart from slightly skewed handlebar alignments – and lost handlebar flowers. But it wasn't an experience I wanted to repeat any time soon.
This was just one train journey on a train with older-style carriages. Bikes on trains in Belgium are not always like that!
Sponsored links
Station lifts - and the alternatives
Another pitfall to look out for in Belgium as well as Holland is stations without lifts.
The alternative provision is a groove, which runs down the side of the stairs. To ascend to the platform you place your bike wheels in the groove and push like a rugby forward! Doing this with a fully loaded bike is hazardous – unless you happen to be built like prop.
Another problem can be that a train disgorges hurrying passengers down the stairs just when you are struggling mightily and perched half way up. We found that removing the panniers and walking them up was generally a better solution. Needless to say, descending by the same method is equally fraught!
Fortunately, most of the bigger stations do have lifts and more are currently being installed. The lifts were quite roomy and easy to operate and made a huge difference to the accessibility of the station.
We never stopped in Brussels, other than to change trains, so I can't comment on how easy or safe cycling is there.
For us, cycling in Belgium was generally fun and quite easy to do. I would not hesitate to return there to cycle some more. It's probably one of the easiest places in Europe to try cycle touring - after Holland, of course!
If you want to visit Belgium, for the latest info, check the Tourism Belgium website.
*****
More Cycling in Belgium - top of page
Green Travel - Eco-friendly Travel
More Cycling in Belgium - Ghent, Trams and Trains 
Copyright Greenfootsteps.com 2011
Please do not copy without permission.