Train Travel Tips and Ideas for Greener Journeys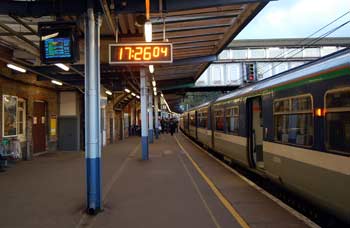 Here are some train travel tips and ideas for a more carbon efficient travel experience.
Many of the train travel ideas presented here are necessarily somewhat provisional as the world of train travel is changing and different countries have different needs and different types of service.
Picture: A train platform can even look attractive at dusk!
What's here?
Train travel is often lauded as relatively green and eco friendly. This page offers some ideas for keeping costs down as well as some of the advantages of train travel for the eco-friendly traveller.
The train travel ideas here relate mainly to Britain and Europe. There are some links to useful sites included.
Why take the train?
Train travel used to be a something of a treat, at least some of the time, when carriages were relatively spacious. Now train authorities have cottoned on to the gambit of the airlines; reduce passenger leg-room down to the just-and-so-bearable for the average sized person and cram in as many seats as possible while still allowing some space for people to leave their seats when necessary.
Modern trains are sleek and fast, so the privations of travel need not keep us long from stretching our legs. Journey times are coming down and it is now possible to cross half of Europe in less than a day.
Train travel can also be comfortable and convenient – if you pick your routes carefully and can travel at off-peak times of day or season. With a little planning and fore-thought it is possibel to be both a conscientious green traveller and keep your travel costs down, too.
Train travel tips:


The price of rail travel - and how to trim it




If you want to use trains as an alternative to air flights for commuting or holidays, the expense will deter most but the seriously well-heeled!

One local councillor I know made the journey from England to Italy by train – and came back well over £1200 poorer because of the cost of travel. If he'd have chosen to fly he could have travelled for a fraction of that.

One answer is to book well ahead.
Booking well ahead
Most long distance routes in Europe are quite pricey. You can make substantial savings by booking ahead – but you do need to choose the exact date and time of travel and commit to it. And you need to do this as much as four months ahead to get the really cheap deals.
Some organised people may well find this suits their lifestyle. Personally, I find travel stressful if I have to worry about my ticket being invalidated by a missed connection, or some change at home preventing travel on the chosen dates. Some travel insurance does cover this kind of thing.
Finding cheap tickets can be a challenge in the UK in particular because of the numerous privatised networks and the complex pricing structures. Nevertheless, cheaper deals can be secured if you book a couple of weeks ahead or more.
In some countries ticket prices are still relatively user-friendly, thanks mainly to large governments subsidies. UK government subsidies account for around half the cost of running our railways. Ticket prices in Europe are generally lower and subsidies higher.
Railcards
It is worth checking through the railcard options to see if you qualify for one. There are several possibilities, from the young people's railcard, family and friends cards and senior railcards, all of which can provide decent savings if you travel by train more than once or twice a year.
Thee are also a few railcards for regional railways in the UK. These can offer substantial savings. The Devon and Cornwall railcard, for example costs just £10 for a year and entitles bearers to 1/3rd off many journeys in the region. See the National Rail Enquiries website and look for railcards at the very bottom of the page. You can also find most major railcards at www.railcard.co.uk.
Train travel tips:


European rail passes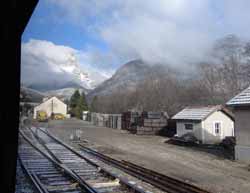 Another way to secure a cheaper deal is to buy one of the rail passes. These can work quite well as a way to get around Europe without spending a mint.
Back in the simpler days of the nineteen seventies these deals were for a full month. Nowadays you need to choose how many days out of a month you wish to travel, typically three or five days.
Picture: Alpine travel by train can be a thrilling experience
Rail passes prices may be deceptively cheap. Some trains you need to pay an extra amount even though you've already bought a pass. Eurostar (London to Paris and beyond) does not accept the European rail passes. You may also find that you are the bottom of the pecking order when it comes to space on trains when lots of people want to travel.
Rail passes are available for single or combined countries but you cannot buy one for your own country - they are strictly for tourists and other foreign travellers.
Different countries offer different systems for booking rail travel – and this can be quite confusing and time consuming. In Europe the best website for getting info on train journeys is undoubtedly the German site www.bahn.de which has an English version and shows trains for most of Europe.
A good starting point for travel in the UK and through Europe is the excellent The Man in Seat Sixty-One which has deservedly acquired a good reputation for excellent information. Well worth checking out for more train travel tips.
Crosscountrytrains.co.uk/ is a helpful site for travelling across Britain - rather than through London. They have some cheap deals on offer.
Thetrainline.com/ is useful for planning ahead and also has some cheap deals - though they do not always beat National Rail Enquiries as they make a small profit from most bookings. National Rail Enquiries is also the place to check for rail cards that entitle you to reduced travel if you fit in one of the categories.
Train travel in the USA
I've no experience of travelling on the US railways. I'm sure it can be an amazing experience.
I believe that All Aboard: The Complete North American Train Travel Guide is an excellent guide with lots of helpful tips and insights for a great trip. It includes background info on Amtrak and info on what to expect on long distance rail rides. There's some information on Canada and Mexico, too.
Sponsored links
Train travel tips:


So how eco friendly is train travel?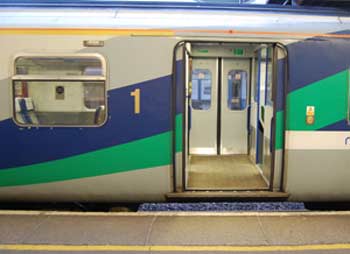 Over a journey of 100 miles a train journey will cause the emission of over 9 kg of CO2 per passenger. This is an average figure for the UK (Source: Act on CO2 http://actonco2.direct.gov.uk/ - figures for the UK). By contrast coach travel causes around half the amount of CO2 emissions.
Assumptions have to be made to generate these figures. For example, assumptions are made based on average train or coach occupancy. A lot of work goes into making assumptions realistic.
Picture: Even train travel can be relatively carbon-heavy if the carriages are under-occupied. First class compartments are sometimes empty even when the rest of the train is packed.
Estimates for carbon emissions by different forms of transport can vary quite widely from country to country. For example, the estimate for carbon emissions from rail travel in the US is nearly double that of the UK, according to The Carbon Fund. This may be for many reasons – the nature of the rolling stock, the main means of propulsion, passenger densities – the list goes on and on. One big reason is that the US figures are based on a whole cycle approach i.e. the amount of carbon from stock production is also counted, for example.
Check out your own country by doing a search: Country name + train travel + carbon emissions might get you there if your government has been active. Your government may even be a good source of train travel tips as many governments are promoting train travel as green and user-friendly. 
Space and infrastructure costs of rail travel
One point that is often overlooked is the enormous infrastructure costs of rail travel which need to be upheld by either substantial central funding subsidies or by high fares.
Rail travel can also take up a surprisingly large amount of space in the centre of crowded urban areas. Kings Cross and St Pancras stations in London have now virtually ceased to be two separate stations. They occupy many hectares of space in order to shift some thousands of passengers daily.
By contrast, Victoria Coach Station moves thousands of people a day with a far smaller area given over to platforms and booking offices.
Nevertheless, train travel has some serious claims to green credibility.
Train travel tips:


Train travel compared to car travel

Cars are by far the worst form of personal transport for CO2 emissions. (The only exception is that air travel is generally a little less polluting than travel in a sole-occupant large car.)

A car driven by a sole occupant typically releases between 20 and 40Kgs per 100 miles, depending upon the size of car. The only way car transport can compete with trains is if the car has maximum occupancy. So, if you are planning a long journey and you want to minimise your carbon emissions, either fill up your car with passengers or take the train or coach.

See my page Auto fuel economy - reduce your car use for information on car shares and car clubs.

If only one, two, or even three people are travelling it is generally more efficient to take the train or go by coach.

If you live in the UK and want to calculate your carbon emissions for a particular journey, you can use Transport Direct. The info given can be tailored to your exact needs.
Train travel tips:


Diesel or electric?

Diesel trains are generally thought to be more polluting than electric. The source of electricity is also a factor, of course. If the electricity used is generated from an old fashioned dirty coal-fired plant then there may not be so much difference.

Diesel and electric trains are both improving in efficiency. The most recent figures I've seen have diesel at about 74gCO2/passenger km i.e. on average for every kilometre travelled, each passenger is responsible for 74 grams of carbon. (This is equivalent to about 11.9 Kg per 100 miles per passenger.) The equivalent figure for electric trains is 54gms per kilometer (equivalent to 8.7Kg per 100 miles per passenger).

Interestingly the figure for rail travel for the USA appears to be far higher, according to the www.carbonfund.org This may well be because US figures take a "dust to dust" approach, i.e. they factor in the whole carbon cost of travel, not just the emissions from the train when burning fuel.

As with all travel and transport, the most important thing is to cut your travel back to the most essential stuff. There are tips on how to cut down on car travel on this page.
Train travel tips:


Does carbon offsetting work?




Carbon offsetting is the buying of trees in new plantations and other schemes which keep carbon dioxide out of the atmosphere. They may play a limited role.

Generally it's a good thing to plant trees. However, hoping that offsetting will undo all the damage caused by traffic greenhouse gases is almost certainly wishful thinking. It's interesting to note that most of the big environmental organisations such as Greenpeace and Friends of the Earth do not support offsetting as a way of tackling climate change. Clearly, it is no substitute for reducing our emissions.

However, don't let me put you off offsetting! Planting trees is a great thing to do - it's just wise to be aware of the limitations of this approach to tackling climate change.

Some travel companies now offer carbon offsetting as an option which you can take advantage of at the time you buy your ticket.

If you have train travle tips of your own to share, please use the Add Your Tips! button on the nav bar. Thank you!




*****
Sponsored links
Green Travel - Eco-friendly Travel Ideas 

Greenfootsteps Home - for more easy green living ideas
Train Travel Tips and Ideas for Cheaper Journeys
Copyright Greenfootsteps.com 2013